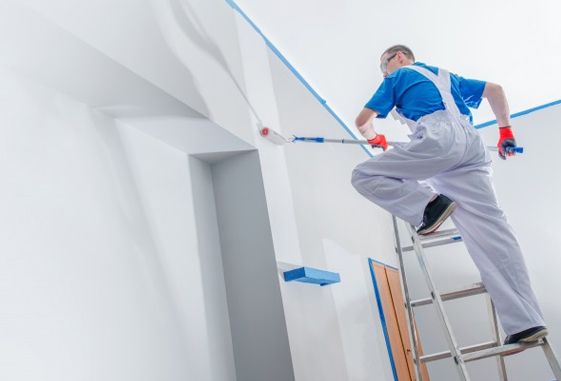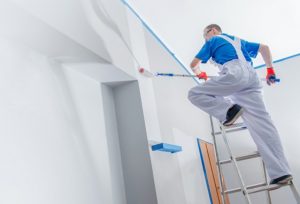 When considering house painting in Danville, one of the first things that you and most people think about is whether you can do it by yourself and not hire a professional painting contractor. Sure you can save a lot of money if you do a lot of work yourself, but is it really worth it?
Before deciding to do the painting job yourself, consider the following suggestions to let you know that you're really decided in doing so.
You may not believe it, but painting a house is not as simple as just applying paint. It can be risky or even dangerous work because of the possible hazards that you might face. These hazards include going up on the ladder to paint, inhaling dust and encountering many kinds of debris, and working with solvents. Cleaning after the prep work is done can also be hazardous. You might encounter the debris you cleaned from the painted surface and inhale the paint solvents if you're doing the job yourself. If you hire a professional paint contractor, you won't have to worry about these hazards.
Many homeowners do the painting job themselves but they often ignore the proper way of painting. Do you know that you may end up making mistakes if you do the job yourself? As a result you'll end up paying more to hire a contractor to correct the errors you've made. If you hire an experienced and trained professional paint contractor, you'll never have to see such mistakes.
Painting requires quite a bit of time investment. You think that by doing it yourself you'll save time as well as money. But this is quite the exact opposite. You may have wanted to finish the job on time but how can you do that when there are other duties around the house, raising the kids, or you have work in and outside your home? A professional contractor does house painting for a living and will finish the job promptly and within the time frame you have set. You won't have to bother painting the home and you'll be able to focus on the more important things in your life.
House painting in Danville requires so much more than just painting the surface. There is plenty of preparation work such as cleaning the walls, removing the old, peeling paint, sanding the walls, as well as repairing and priming. By hiring a professional paint contractor who knows the proper way of doing all these things, you don't have to bother doing the preparation work.
One of the things that many homeowners take for granted is using the proper materials especially with the paints. In the past, paints were available in only oil and latex. Today there are many varieties of paints and the choices available make it all the more complicated. There are many paints available that are formulated for specific surfaces. In addition to paint, you'll also need the proper painting tools, repairing and priming materials. A professional paint contractor knows all the proper materials. The contractor knows what kind of paint to use and how to apply it.
Cleaning after the prep work and the painting job isn't spared from the hazard factors. If you do the painting on your own, you may encounter debris and inhale solvents when you're working with paint. A professional contractor will take care of these hazards so that you'll never have to encounter them.
House painting in Danville is more than just applying a coat of paint. So it's up to you if you want to do the work yourself or better yet, hire a professional paint contractor who will deliver the best results.