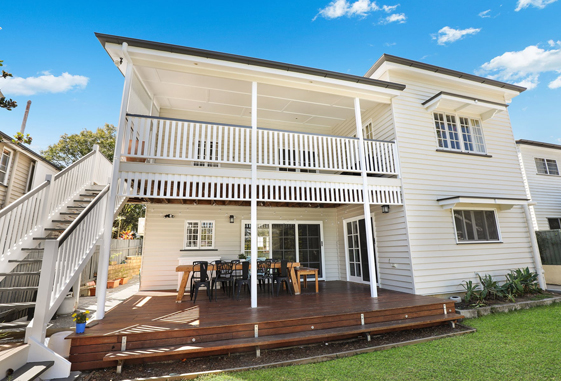 When considering house painting in Danville, first impressions do matter. There is a saying that "beauty is only skin-deep". Beauty on the outside doesn't matter much as long as you're beautiful on the inside. Well, this doesn't apply to houses, especially if you intend to re-sell your home. Chances are you have seen signs that flaunt how gorgeous a house's interior are but when you look at the exterior it has old, chipped or peeling paint that looks worn-out and awful.
If you were to drive past that ugly house, you would probably nod your head and wonder what could be wrong inside, if the homeowners don't pay attention to the outside? If you were a potential buyer, chances are you may get probably turned off by that house's worn out exterior. You won't even bother to step inside and have a look at the interiors (even if they look beautiful), much less to buy the house. You'd rather go and look for another house that will catch your eye and interest.
When trying to sell a home, first impressions do matter. The first impression could be the last impression, so it all falls to your home's exterior whether it will make a break a deal. A fresh coat of paint on your home's exterior will definitely add more curb appeal, and Custom Painting, Inc. knows how to help make your home look its best – outside and inside.
Sure, you may want to paint the exterior yourself in order to save money. But you may also hire a professional contractor such as Custom Painting, Inc. Why the hassle, and why spend money on a contractor when you can do the painting yourself, you may ask?
The reason you may choose a contractor is because we know your time and your finances are the prime considerations. That's why our employees are extensively trained painters and specialists. Besides, we use the best quality paint, so you'll get an exterior painting done right to start with, you won't have to worry about redoing something that doesn't look right. What's more, you'll get the best quality service at a price that you can well afford!
Aside from making your exterior more appealing, painting your home will also protect it from damage due to time and natural elements such as the sun and moisture. When you paint your home before it is needed, you will save money on excessive prep work, and it may help prevent damage to the exterior surfaces such as sidings and stucco. With timely painting, these problems (and additional expenses) will be avoided.
Usually, exterior painting an average-sized home takes about two to three days. We at Custom Painting, Inc. make sure that we focus on our jobs without interrupting you inside. You can still stay in your home without any inconvenience. You can trust us to stand behind any work we do with a five-year guarantee on the paint as well as our workmanship.
Custom Painting, Inc. uses nothing but high-quality products from Kelly Moore Paints. If you aren't sure about which paint colors for your exterior or your interior, we offer free computer color consultation to help you decide.
Don't short change yourself or scare off potential buyers with unsightly exterior painting. Painting your house is the easiest and most affordable way to make your curb appeal more attractive. You may lose a potential buyer by saying "I'm gorgeous inside!" when you could very well choose exterior paint that will arrest anyone's attention, including your potential buyers'! This is important to remember when doing house painting in Danville.