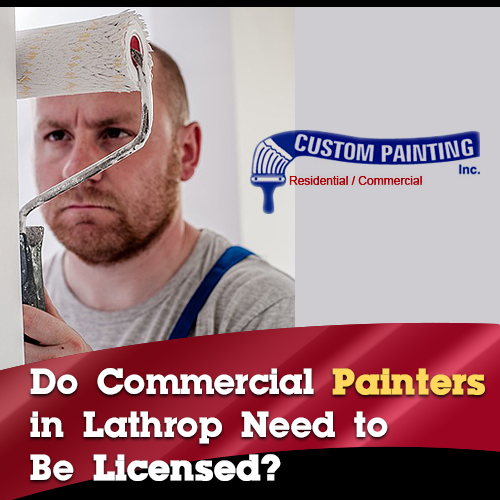 When looking for the best commercial painters in Lathrop, you have to consider the importance of licensing. "Do I have to hire a licensed painter even it would cost me a bit more" or "Do I want to hire an unlicensed painter to save me some money?"
But here's something you should know, first and foremost: not all US states call for professional commercial painters to have a license. But in Lathrop and in the rest of California, commercial painters do indeed need to have a license to perform their services in a legal and ethical manner. All builders and contractors should be licensed by the Contractor State Licensing Board (CSLB) to work or operate their business legally in California.
For a commercial painting contractor to become licensed, first candidates should have the qualifications to apply for a basic contractor's license. They should be 18 years old and above and have the sufficient skills and experience and carry a valid social security number – these things are necessary to qualify for a contractor's license.
For people want to contract for a construction work for any project whose total cost is at least $500 (the cost also includes materials and labor), they should also be licensed by the CSLB as well.
For a lot of applicants, cost is probably their biggest concern when applying for a CSLB license. The cost of applying for a CSLB license has considerably changed throughout the years. In California, painting contractors understand about the need of a license to provide services legally and ethically, and the fact that once their licenses expire, they need to renew them to continue working in the state.
Commercial painters have several ways to apply for a license: they can call CSLB's 24-hour automated information line, write an application letter, or personally drop by at any CSLB branch.
Fingerprinting, undergoing a criminal background check, taking the required law and trade examinations are also strongly suggested. But applicants can forgo the exams if they are able to meet some specific criteria. You can refer to CSLB's website (http://www.cslb.ca.gov) for guidelines to become qualified for the examination waiver. Painters shall also present a proof of a worker's compensation insurance and a copy of a license bond, plus pay extra fees for processing their license. Finally, they are issued with an ID card that bears their official license number.
To know more about requirements and qualifications to obtain a license from the CSLB, download a PDF copy of a guide entitled "Blueprint for Becoming a California Licensed Contractor" or go to CSLB's website.
Sure, hiring licensed commercial painters in Lathrop may make you shell out a bit more money, but the benefits of employing them to your project far outweigh the cost and the trouble. It also gives you peace of mind. Having a license means that painters have not committed crimes or any other serious offenses against local or state laws that would have prevented or disqualified them from renewing their licenses. Knowing that your painter is following the laws and regulations of your state is a good indication that they are a true follower to the rules.