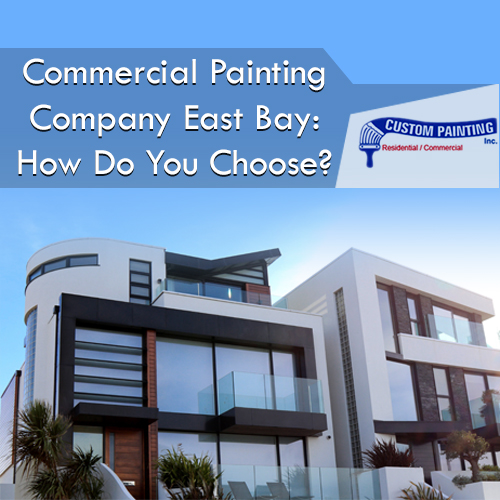 Your business, office, or commercial property is important to you — you have invested your time, energy, and, of course, money and resources to get it thriving. Naturally, one of your concerns is to keep it looking its best at all times. Hiring the right commercial painting company in East Bay will help.
Appearances are everything in business. Customers will patronize everything that they see as attractive. Employees will find working in a great-looking office as nice and pleasant and this kind of environment will encourage them to work more diligently.
That is why to make your business good all the time, you want to have it re-painted once in a while. Without a doubt, painting is one of the most important and crucial investments you will make for your business. And you don't want your investment to be wasted to inferior painters or scammers who pretend to be commercial painters. Unfortunately, many clients have fallen to this trap and they lose their money in the process.
So, to make sure that your painter will be worth your hard-earned investment, here are the following key factors to successfully choosing a commercial painter:
1. Do your research
The Internet is the first place to look for commercial painters you want to hire. If the company has its official website, then good — you can browse on their history, customer testimonials, portfolios and a line of their services. Also, check the out Better Business Bureau to see if the painting contractor you're interested in has received customer complaints. Of course, the fewer the number of complaints, the better.
Other than the Internet, you can also ask recommendations from friends, relatives, neighbors or colleagues if they have worked with a commercial painting contractor in the past. They are probably the best source of information as they can provide you genuine feedback whether this or that contractor was good and is worthy to be hired again.
Prepare a shortlist of your preferred painting contractors as your candidates, then call them to ask for an interview or come to your commercial property for an inspection and subsequent estimate. During the interview, ask each candidate if they are licensed or insured to protect you in case of an accident (or even possible criminal acts from the part of the workers). It is also important to ask them whether their contractor has done background checks on their employees or have implemented safety measures or comply with industrial safety standards.
Also, ask for references from each candidate, then contact each reference to see if they are happy with the contractor's job. The more information you receive from your candidates, the better.
2. Ask for quotes and estimates
Ask for quotes and estimates from each candidate. A quote will give you a better idea of how the project should be carried out. They include how the surfaces will be prepared, how the surfaces will be painted, and what brand of paints should be used.
An estimate will give you a better idea of how much you would spend on a painting project. An estimate should be honest, accurate and reasonable. This includes the cost of paints, materials, the number of workers and labor. If one candidate's estimate goes is a bit pricier than those of his competitors, you may ask them the reason behind the rise in cost. It may be that your surfaces need more than one coat of paint, or need a special primer, for instance. But make sure that the increase is reasonable.
While you don't certainly want to overpay, you also do not want to choose a contractor whose estimate is too low. So see that as a red flag — low price means cheap and inferior services, and the contractor may be out just for your money.
3. Make sure the contractors guarantee their work
After the painting job itself is done, it may not even end there — there should be a warranty or a guarantee of their work. Having a building painted costs, a lot. That is why it is better to hire a reputable contractor because they stand by the quality of their work. A warranty or guarantee will protect you if anything goes wrong with their paint job after it has been applied.
However, it is also important to know what it is in the warranty. A contractor will not cover a finished paint job if it has been damaged by other factors, e.g., rusting, natural causes, or a previous work by other contractors.
While choosing a commercial painting company in East Bay may take a lot of time, once you have chosen the right contractor, he will be worth all your effort. The services that the company provides will be a crucial part of the first impression your business will make.