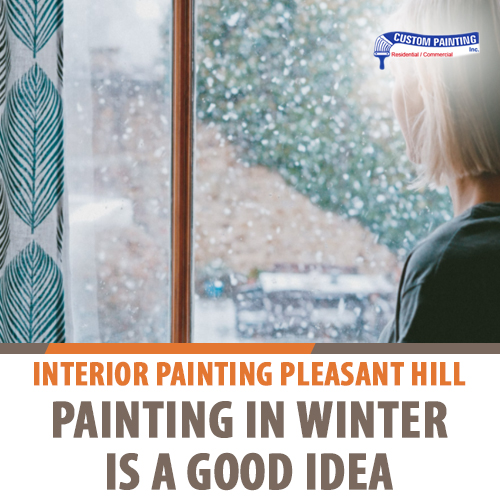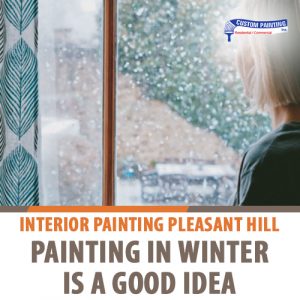 Most homeowners save their home improvement projects for the warmer season. But some projects, like interior painting in Pleasant Hill, can be done even in the thick of the winter. It can even be beneficial to paint during this season. Here are some reasons to consider interior painting in cooler weather:
It's more cost-effective.
Professional painting services are more in-demand during the spring and summer months. Thus, the prices are often higher to correlate with the demand.
It's the opposite during the fall and winter months, where there is a low demand for painting services. In addition, painting contractors are less busy in the colder months since painting projects – in particular exterior painting projects – are virtually impossible during this time. Thus, their schedules are more open, and the prices go down. You can save up 20% to 60% when doing interior painting during the offseason due to lower competition among painting contractors.
It offers more flexibility.
The slow winter season means that painting contractors typically have more flexibility, which can be great for painting around busy customers. Whether you're home during the entire process or want professional painters working at your home while you're away, they can follow whatever suits your calendar.
If you want more painters to do your project, the painting company can easily schedule an additional workforce during the colder months. More painters mean the job can get done in half the time.
Cold, dry air helps the paint cure.
While summer and spring seasons may be perfect for catching rays while you're hanging out at the pool, the heat is far from ideal for interior painting projects. This fact is true for those living in a humid climate. The more humidity in the air, the longer it will take the paint to dry and cure. On the other hand, colder, drier, and less humid air will help the paint dry and cure faster, which means a faster interior paint job.
You'll see faster results.
Because the winter months mean it's the painting off-season, you don't have to wait too long to get your paint job done. The cold months are best for quick responses! Unless you have scheduled your paint project for the spring and summer in advance, it's almost certain that you'll have to wait a little longer to get your project started.
You can devote some of your days off during the holiday season to get your paint project done. It can be an excellent head start on all your home improvement projects for the spring and summer.
It can help maximize the value of your home for spring and summer.
If you plan to sell your home in the following spring or summer, the house-hunters are likely waiting until springtime to enter the market. But if you want to be ahead of the competition and sell your home for more money, a fresh coat of paint for your home's interiors can help attract buyers.
Choosing to paint your home's interiors during the winter will help you gain an advantage over your competitors. Plus, it will maximize your time to get your house prepped before staging it in the spring and summer months.
Interior painting in Pleasant Hill during the winter season can be an excellent move for many homeowners. As long as a solid plan is in place, you have the right paint colors, and you have an experienced and reputable professional painting company working with you, painting the interiors during the winter months is often a better idea.