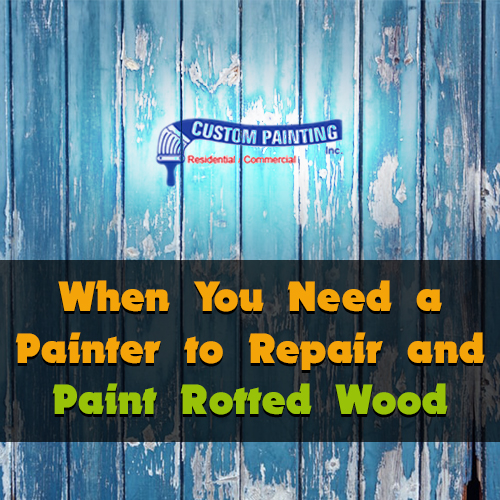 Compared to interior painting, exterior painting presents more challenges. It's because exterior walls are more exposed to elements, such as heat and moisture, that can lead them to suffer various surface problems. This reason is why you need a painter to repair and paint rotted wood.
As you can see, painting is not purely cosmetic. More importantly, it can also improve the structure of your home. Painting your home's exterior allows the painter to inspect it for any signs of wood rot, repair the problem area, and restore it to its original look.
Wood rot is caused by leaks, mold, mildew, and insects, among other things. While painting is one of the solutions to rotting wood, it should not be the primary solution by just patching the problem over with a coat of paint. Painting is not enough to fix the underlying problem. The solution to rotted wood is either fixing or replacing it, and a professional painting contractor is the best person to do the work.
"Where can I find rotted wood?"
Rotted wood is often found around roofs, decks, exterior doors, and wooden window frames. These areas are exposed to moisture, and when moisture has been there long enough, it encourages mildew, mold, and other fungi to grow, causing the wood to deteriorate. Without proper maintenance, California's ever-changing climate ultimately results in wood rot.
"What should I do when I find rotted wood?"
If you encounter a similar problem, you should look for a painting contractor who does other home improvement services. Many, if not all, professional painting services in the Bay Area also do fixing or replacing rotted wood. They should know where to identify and locate areas suffering from wood rot right away and be able to fix the problem for you. Not all companies may have a similar approach to dealing with rotted wood, so while looking to hire painters, it's best to ask them how exactly they fix this problem.
Replace the entire affected area. Some painting service companies opt to replace the affected area and the nearby pieces to ensure that the decay did not (and will not) spread. This option is the preventative procedure to ensure that this issue will not occur again in the future. Then new wood is in place and applied with a fresh coat of protective paint for durability and aesthetics. Finally, the painters cover the entire exterior with a long-lasting sealant, a primer, and high-quality exterior paint.
Repair the affected area. Other painting service companies will repair or treat the affected area. The usual procedure begins by applying fungicide that kills the rot, preventing it from spreading further to a more severe degree. Then the fungicide is followed up with a filler to fill any cracks or other areas damaged by the rot.
However, this is only a temporary solution – you may only choose this route if you're under budget or looking for a quick fix. Eventually, you may need the entire affected area replaced.
Rotted wood certainly ruins your home's curb appeal. If you need a painter to repair and paint rotted wood, Custom Painting, Inc. is here to help. We will include fixing rotted wood in your painting quote, and we will guarantee to find the most cost-effective solution to this problem possible.
With almost four decades in the business, Custom Painting, Inc. encounters virtually every type of surface problem and offers the best possible solutions for them. Give Custom Painting, Inc. a call and make us your reliable partner in residential and commercial painting services.