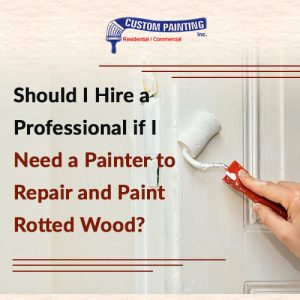 Rotted wood is one of the usual headaches of every homeowner. It makes your home look less appealing, and it can also cause further structural damage if left unattended. Thus, when you need a painter to repair and paint rotted wood it is essential to keep your home healthy.
If you are in an area that has four seasons or a usually wet region in the United States, there's a big chance that your house will suffer from rotted wood. So, it's essential to inspect your home periodically for wood rot. Whether you need to replace, or repair rotted wood, or you may have to fix it by yourself or hire a professional to do it, it all depends on the extent of the damage.
What happens when you find rotted wood when prepping the house for painting? Rotted wood may not be visible to the naked eye. After the house has been cleaned and sanding has begun, sometimes we unexpectedly find soft or rotted wood.
Repair or replace?
If rotted wood covers only a small area, it can be cleaned out, treated with fungicide to kill the rot to prevent it from spreading, applied with a filler to fill the cracks damaged by the decay, and finally painted over. Because the damage is only minor, the repair is a viable option, and you can do the work by yourself. In most hardware and home improvement stores, you may have to purchase your materials, such as a fungicide and wood filler.
If rotted wood has become severe and spread to other areas, it could compromise the strength and the integrity of your house's structure. In that case, you may have the rotted wood replaced with new wood. In that case, it's better to hire an experienced painter to do the job for you.
Repairing or replacing wood rot also depends on if the affected area is structurally significant. Beams, columns, and joists are integral to your home's structural integrity. If rotted wood shows up in any of these wood features, your concerns change from aesthetics to your and your family's safety. Although you need to take some measures to repair slight damage, replacement is the better option when you see rotted wood in these areas.
Repair is the more appropriate option if rotted wood is present in less structurally significant areas, such as outdoor deck railings or a corner of a windowsill.
"Should I hire a professional or do the repair or replacement by myself?"
Finding unexpected, rotted wood can slow down your painting project, especially if you're going to DIY it. 
But if you hire professional painters in the Bay Area, you can be confident in knowing that they have the means to solve rotted wood issues. Most professional house painters in the Bay Area collaborate with experienced, licensed, and insured contractors who can address rotted wood efficiently and expeditiously. When you hire the pros, your paint project can move forward without any delay.
In most cases, repairing small to moderate damage caused by wood rot is generally cost-effective. As long as rotted wood is detected early and has not spread to other areas, painters can get by with killing the fungus that causes rotted wood, filling the cracks, and painting over the affected surface. Repairing rotted wood in its early stages will prevent further damage. But if the rot has become more advanced and has the potential to break down the overall integrity of the wood feature, painters opt to replace it with new wood. 
Replacing rotted wood can cost you a lot in the beginning. Still, you don't have to address extensive damage with ongoing and repeated repairs, which can end up a lot costlier than replacement.
When you realize you need a painter to repair and paint rotted wood, hire only experienced, licensed, and insured professionals like Custom Painting Inc. 
At Custom Painting Inc., you can depend on our expert and dedicated team of workers. They will inspect your home for rotted wood, evaluate the damage, advise you on whether to repair or replace it and apply our experience and expertise to help restore the wood features of your home or building.