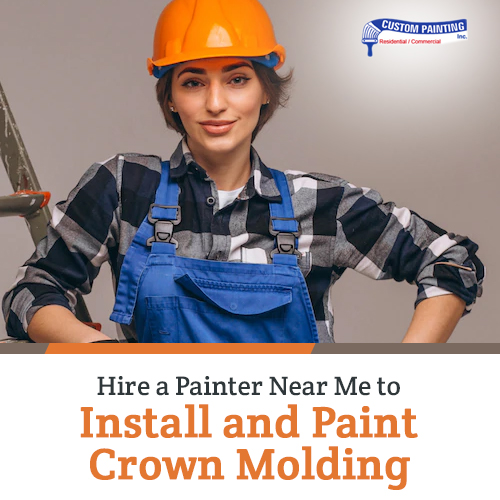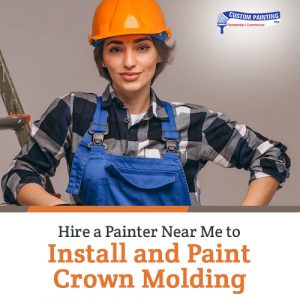 If you haven't put thought into your ceiling yet, why not improve it with crown molding? Given the right style and installation, crown molding can bring anyone's attention to the ceiling. If you also want your crown molding painted in a specific color, hire a painter near me who also installs crown molding. It's hitting two birds with one stone.
The ceiling – your home's fifth wall – is often overlooked and underappreciated. Although it may be less noticeable than your walls, the ceiling can significantly define your room's style and feel. Crown molding is one of the ways to beautify your room and give it a truly finished look.
Like most trim, crown molding is often painted the same color as the walls and ceiling, usually white or cream. But there's no rule saying that your crown molding should stay neutral. You may go for a different hue to your crown molding to give your room a splash of color.
Before getting started, you'll need to know what type of crown molding will suit best for your room, according to the material and architecture of your home:
Plaster – The traditional material that can be made into elaborate shapes. However, it is heavy and tends to crack easily.
Wood – Another traditional material that can be formed into different shapes. However, it can shrink and swell due to changes in the weather.
Polyurethane – This type has become increasingly common. It resists insects and decay and works in most installations. Like wood and plaster, polyurethane can also be made into different shapes. It is also the best option for humid spaces like bathrooms. But unlike wood, polyurethane is relatively soft, so it tends to dent easily. It also requires painting to conceal its shiny surface.
Flex – Flex molding works best for curved walls and window bays. The rubbery material comes in various profiles that can bend around a curved wall without needing cuts.
Medium-density fireboard (MDF) – It's a stable and low-cost alternative to natural wood. If it doesn't have veneers, it must be painted. It also tends to dent easily.
"Is crown molding right for me?"
Crown molding is a versatile decorative feature that can also be applied to the top of cabinet edges, case moldings, built-in bookshelves, or window trims. However, we're talking about the traditional installation between the edges of the walls and ceiling.
Crown molding may not be for every architectural style. It is too traditional as an architectural feature that it would look awkward in modern homes. Crown molding also doesn't suit certain ceilings, like vaulted and cathedral ceilings. In addition, it won't work for homes with open-plan interiors since it is hard to find a logical start and endpoint for the crown molding to install.
It could be a gamble if you're thinking of adding crown molding to your room with a low ceiling. It can make the room feel smaller and almost claustrophobic. But in others, it can add elegance to the room. Work with a home improvement professional to determine whether crown molding is the right one to decorate your home.
You can hire a carpenter to install crown molding and a painter (if required or desired) to paint it. Depending on the type of crown molding, you may need to have it painted. Can you find a painting contractor who also installs crown molding? You will find out by researching painting contractors in your town. Nowadays, more paint contractors offer more than just painting – they also provide other services like repairs, popcorn ceiling removal, and custom crown molding installation.
If you're looking for a painter who also installs crown molding and you happen to stumble upon this article, you're in the right place. Custom Painting, Inc. has provided residential and commercial painting in the Bay Area (and surrounding cities) since 1982. In addition to paint, the company offers custom installation, like crown molding.
While any painter can offer crown molding installation, they may not have the required experience to produce the results their customers want. But here in Custom Painting, Inc., you can be sure that our team's skills and experience in both painting and crown molding installation will transform the look of a single space or the entire home or business. Hire a painter near me who offers other services comes as a great deal, especially for budgeted home improvement projects.