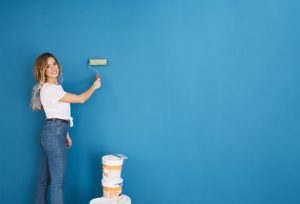 Are you considering house painting in Danville? Changing a room's color will definitely enhance your mood and disposition at any time of the year. Fall and winter will be here before you know it, and with these seasons there will be much shorter, darker days. Seasonal Affective Disorder (SAD), also known as winter depression or winter blues, may influence your mood or those in your family. Before gloomy months settle in your area (and dampen your mood) you may want to work at brightening up your whole room.
Let Custom Painting, Inc. alter the look and texture f your home to make it a warmer and more welcoming space. Have your walls and ceilings replaced with a new texture and paint colors to create a bright, warm, cheerful and comfortable sanctuary from the cold when you do house painting in Danville. It will also create a more stylish elegance in your own living space. Custom Painting Inc. will do away with the drab, dull paint and old, ugly walls that seem to further emphasize that closed-in winter feeling. Old paneling, uneven drywall, and old wallpaper will be replaced with a new and updated look and feel, and Custom Painting will help you in achieving it.
If you're doing house painting in Danville and are considering giving your room a new coat of paint, a perfect texture on the surface couldn't be more perfect. The cost is relatively inexpensive if it's done at the time of the painting job. All it takes is the proper prep work, masking and some related processes that are involved in both a texture job and painting job. Once your home's surface is properly cleaned and prepped for paint, a new texture could be applied before a new paint is added to your walls to complete your home's interior transformation.
Comparing the costs of removing old paneling and applying a new dry wall, retexturing your wall is definitely a much better move. The most common types of texture are orange peel and knockdown. Custom Painting, Inc. can also match the existing textures if it's necessary.
We recommend that you do some research, and spend a bit of time at your local home improvement store looking at paint products and tools, especially if you're a DIY enthusiast. But isn't it better if you leave the learning curve and all the guesswork behind and call up a professional like Custom Painting, Inc.? Certain things such as divider strips, covering seams, patching, sandable putty and spackling paste may take you time to understand, and much less apply in a real painting job.
At Custom Painting, Inc. painting, retexturing and refurbishing are only part of what we do. It's best to leave the customizing to professionals because the company uses products that are exclusively intended for specific surfaces. What's more, Custom Painting Inc. knows the different formulas for wood, cement, concrete, and drywall.
Before the winter season looms and you need to update the look of your interior, contact Custom Painting, Inc. today at 925-294-8062 for your home's retexturing, reviving and refurbishing needs.