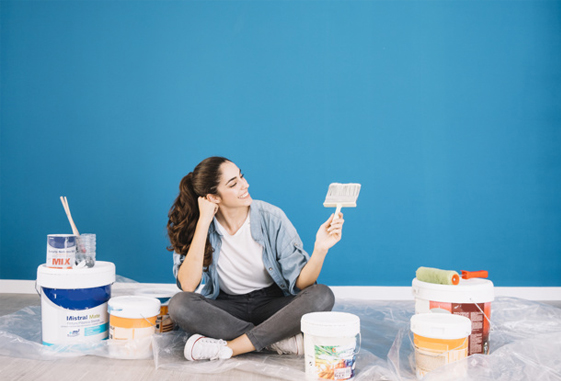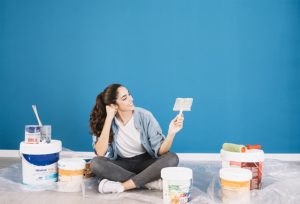 There are times when you need a fresh change in your home can be as simple as house painting in Danville. It gives you the opportunity to choose the colors that you want for your room. Sometimes it's fun to think out of the box and experiment with different shades or colors you wouldn't normally use.
For instance, why don't you try using dark, bold, and vivid colors? You may be tempted to avoid trying strong colors for your room. Why? You don't know where to start? Well, take a look at the color of your furniture and your curtains, for instance. These will give you a good starting place. Decide which wall colors will complement them. The small color chips that you can get from paint stores may not always be of help when choosing stronger colors. Instead, try painting cardboard or a piece of plywood with the bold color of your choice, and set against the wall to get a better idea of how the color would look like when painted.
Perhaps some of you aren't sure enough of your choice to paint your entire room in bold colors. But you may want to choose just one wall to paint the bold color, turning it into an accent wall to highlight artwork, souvenir collections, or an entertainment set.
The choice of colors will help you decide the overall atmosphere you will have in your room. For instance, if you want your room to feel cozy, go for warm colors such as deep red or orange, a goldenrod yellow or chocolate brown. This is especially suitable if the color of your furniture is neutral. These bold colors can also help you locate accessories more easily such as decorative pieces or throw pillows.
If you want colors that are more relaxing to the eyes, choose deeper shades of blue, green and purple. If you have natural-looking furniture such as mahogany cabinets and shelves, a dark forest green will perfectly complement them. Another suggestion is pairing ultramarine blue or indigo with gray trim; this combination will give a tasteful, exquisite feel. Dark lavender is also a good choice to set you in a relaxed mood.
You can also go for colors that are quite the opposite of your furniture. For instance, if your furniture is mostly warm colors; tone down the room by painting cooler colors. This gives balance to the whole space. If you have mostly cool-colored furniture, paint your room with warm colors to lift your mood.
This may sound odd, but painting dark colors on the walls does not to make the space recede as is commonly thought. You'll be surprised that they will instead make your space larger and still allow it to feel cozy at the same time.
House painting in Danville can help you create the space you want. Your imagination is the limit so go on and paint your room in any color that you desire. However, it doesn't hurt to seek the helpful advice from professional painting contractors in the area for more dark color ideas.