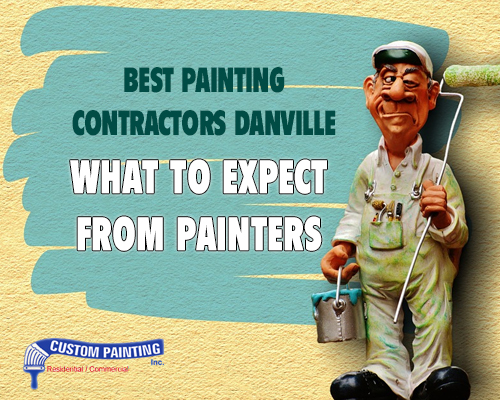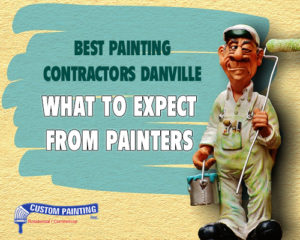 Getting to know the best painting contractors in Danville is not just important; it is essential to hire the right painter that you need to refurbish and redecorate your home or business.
As a customer, it's usually when you have expectations from anyone who offers you services. This is no different when it comes to screening painters. Here are just a few of the many things to know and expect when you're looking for painters to work on your home or business:
1. How long have they been in the business?
While this question won't make you form the ultimate decision, it's good to know how long painters have been in the business to get their story. How did they become painters, and why did they choose this industry?
Whether the painter has over 10 years of experience or is just starting (well, we have to start somewhere, right?), take time to evaluate their knowledge in the trade itself, as well as the different types of paints and paint brands, other coatings, tools, materials and techniques as well as their experience in residential, commercial and/or industrial painting.
The reason why you should ask painters for is that this will help you to decide which of these painters will be the most suitable to work in your project.
2. How will they paint?
The question may not only pertain to the painting job itself, but it also refers to the preparation of the surface.
Do they paint by brushing, or by brushing with other methods such as rolling or spraying? How do they clean the surfaces? Do they prime the entire surfaces or do spot priming? Or do they prime at all?
Of course, choose painters who prep surfaces before painting. A good painter knows that a topcoat can't adhere to the surface if it has not been properly cleaned, repaired and primed. He will spend a good deal of time in preparation work to make sure that the surface is clean, smooth and ready to be coated with paint.
Every painter has his own way of doing their job. Some are good, while some are horrible. So, it is also important to ask candidates if they do prep work and if they do so, what kind of prep work do usually do in their projects. It's also good to ask your friends and neighbors about the painters they worked within the past – who knows, they may recommend the painters to you or otherwise advise you not to hire them at all.
3. What kinds of paints do they use?
Naturally, customers also want to know the kinds of paints they use. Many painting contractors use mainstream paint brands Benjamin Moore, Sherwin-Williams, and Behr. However, keep in mind that painters use many types of different finishes and formulations. They may use paints that are ideal for certain weather conditions, or for certain surfaces.
There are "green" painting service companies that use only eco-friendly paints with zero VOC levels. So, if you're the type who doesn't want noxious paints around the house or you have someone in your household who has health and sensitivity issues, you may hire that type of painting company.
It's good that your painter should be able to explain the type and brand of paint they're using and why they think they should use a certain type of paint for your project.
4. What if I have a complex design in mind?
If you have chosen a style that is particularly intricate and complicated, then hiring a professional painting contractor will be the best decision. Of course, as they won't be the one to execute the style by themselves, make sure that you provide them with a sketch of the design you have in mind, and what surface and/or details that you would like to be painted. That way, that will avoid misunderstandings or confusion in the future that could leave you frustrated or behind schedule. Only fully trained and licensed painters will be able to realize your dream design in a clean and crisp way.
5. Are they licensed and insured?
The painting industry is not heavily regulated in the country and you may find that in some states, there are painters that are not insured. Here in California, the regulations are strict regarding the eligibility of painting and building contractors for employment: they have to be licensed and insured.
It is important to ask painters the first thing: "Are you licensed?" Don't take their "yes" for an answer; ask them for proof of a valid license. Because when they're licensed, they are also likely to be insured as well. However, you may be even surprised to find out that some painters are licensed, but not otherwise insured. You still have to ask licensed painters if they carry both liability insurance and a worker's compensation insurance. A painter having insurance will not only protect themselves and their workers, but it will protect you and your property as well.
6. Do they offer a warranty?
Look for a contractor who offers a warranty for his work. Good and reputable contractors know how confident and proud they are of their workmanship that they back it up with a warranty – whether it's a one-year or a 10-year warranty.
As much as possible, good painters want to do their job well to satisfy customers who will call them back for a new project – not to do repeat work of a previous project. Each painting contractor is different, so it is important to ask questions that will give you the insight you need to hire the best painting contractors in Danville.