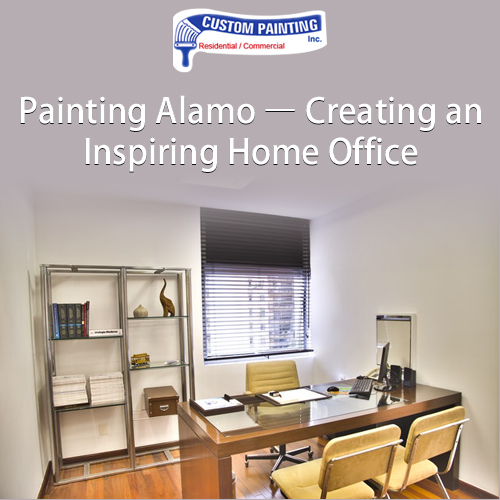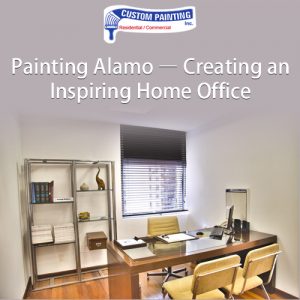 Painting in Alamo allows you to make your house a home. It's turning your house into a place where you can proudly display your personality and style. With just a few new paint coats, you can turn your bedroom into a quiet sanctuary, your bathroom into a personal spa, and your kitchen into a fun place where you can entertain your guests. You can also turn an extra unused room, an outdated space, or a quiet nook into a functional and beautiful home office.
Thanks to technology and the Internet's increasing accessibility, everyone with a desktop computer or a laptop can do their office work in the comfort of their own homes. Working at home has become a steadily growing trend in recent years, and it looks like it is here to stay. If you are one of those who work at home, having your own home office is essential as it allows you to remain focused on your job, away from the usual domestic distractions.
The right wall paint in a home office can have many benefits. Not only a new paint color refreshes an outdated space, but the right shades could help drive productivity and creativity. After all, some people believe colors have positive psychological and emotional effects. Studies even suggest that some colors and shades will help stimulate your brain, while other colors have calming effects, and thus, reduce stress levels.
Check out some style suggestions to create an inspiring home office out of unused space. 
1) Home office in the bedroom
You may not have an extra room in your house dedicated to a home office. But if you have a bedroom large enough, it can accommodate a home office space. The bedroom can be the perfect spot to include an office if there are no other options available. 
Some bedrooms feature walk-in closets, which you can re-purpose into a beautiful home office. Since this area is much smaller than the bedroom, painting it with neutrals will maximize the illusion of space. Or you can paint the accent wall with sunny yellow or vibrant orange to welcome energetic vibes and instill confidence as you are about to start your workday.
If your bedroom has an empty alcove or recess, fit your desk and shelves into the space to build a home office nook. Install a curtain or a drapery that lets you conceal the entire workspace when it is not in use. It's always a good idea to paint it with a color that is different from your bedroom walls, as it will serve as an accent wall.
2) Home office under the staircase
Most staircases typically feature nooks underneath them, which can be smart to fit in a desk, a chair, and some shelves to instantly create an office space. It will be more advantageous if the staircase has no risers, which will make your office nook look brighter during the daytime. However, indoor lighting is still needed to illuminate your desk when everything goes dark. You may choose a lovely desk lamp, a standing lamp, or stylish overhead lights, whichever you may prefer.
If possible, paint your under-the-stairs office nook with neutral or bright colors so that it won't make the area look dark, dingy, and claustrophobic.
3) Any small space in your home
Small spaces are no longer an excuse for not deserving yourself a decent and comfortable work area – whether that space is in the living room, in the kitchen, or anywhere else. You can turn even the tiniest square footage of your home into a beautiful office space to get your work done.
While you're at it, you can paint the walls with a different color from the rest of the area. It will serve as an accent wall, highlighting that very area as your office space.
Good color suggestions for the home office space:
1) For infusing energy – If you need to be on top of the game every workday, consider bright, cheerful, and vivid colors. Red tends to motivate you when a lot of physical work needed for the day. Sunshine yellow, creamy yellow, or vibrant orange injects a bright and cheerful vibe into your home office. Depending on your office's space, function, or layout, these "warm" colors may work best as accent colors or as primary colors.
2) For instilling calm – Working at home means it's no less stressful than working in a traditional office. There are still pressing deadlines to meet, dealing with demanding clients, putting in hours of doing intense online research or doing repetitive tasks. These things can take a toll on you and undermine your productivity. You need a peaceful, tranquil space to relax, re-energize, and get yourself ready for another workday challenges. Blue is a no-brainer choice – it is a soothing color no matter what shades you choose. Darker shades of blue are excellent choices for those who like their office to have an air of mystery but don't want to use black.
Shades of purple are good choices to bring a sense of calmness, coziness, and luxury to your home office space. If you want to create a bright and spacious-feeling home office that still offers a tranquil atmosphere, then go for lighter shades of blue or purple for the walls.
3) For encouraging a sense of balance and concentration – If your job requires you to work for long hours and with intense focus, green is ideal. Green represents nature, balance, harmony, and restoration. Since green requires little or no adjustment, it is quite easy on the eyes. Green is also an excellent color to use in places where a sense of balance is a top priority; that is why this color is standard in medical offices. If your job is in accounting, finance, or any other job that involves currency and number-crunching, green is the ideal choice for your home office.
A home office is a very personal space that reflects one's style. While a home office is your private sanctuary, it is also where your inner CEO can get down to business without the stifling office atmosphere. These painting in Alamo ideas can inspire you to create the ideal color schemes for your home office.