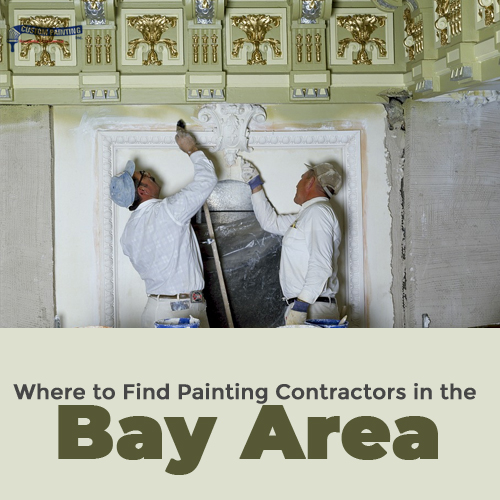 Whether you are new to the area or have not hired someone to paint your house before, looking for painting contractors in the Bay Area might seem a little challenging.
The first thing that probably comes to your mind is: "Where to find a contractor?" so locating a painting contractor is going to be your first step. There are several ways to generate leads on good painters who will provide a satisfactory job that you can recommend to your friends and colleagues.
Get referrals
One of the best ways to locate the best painters in your area is through referrals. Ask around – and tell others that you need a painting contractor and see if you get any leads.
Word of mouth from satisfied customers is often the best and the most reliable form of advertising. Seek opinions from past customers in your area and learn about a particular painting contractor straight from these customers' accounts. If they are satisfied with the contractor's recent work done on their property, they will be glad to recommend them to you. Of course, they are not also shy in warning you about the contractors that you should avoid. If you hear mostly horror stories from them, steer clear!
Visit a paint store
If you don't know anyone in your area who has had recent work done, visit your local paint store. Professional painting contractors usually work with local paint suppliers, not with the big hardware or home improvement chains, so you'll find more positive leads from the local paint stores. Approach the salesclerk, the person behind the counter, or the store manager if possible. Talk to them, describe your project to them, and ask them for recommendations. They will provide you with valuable information and insights which will help you to hire the best painters.
Search online
The Internet is part of everyone's daily life now. It is almost always the first thing that people use whenever they are looking for services such as house and commercial painting.
Search engines, such as Google and Yahoo, are usually the first stop for users looking for painting contractors. For example, if you are looking for painting contractors in the Bay Area, type in the phrase "painting contractors Bay Area," and you will likely receive thousands of results, including the individual contractors' websites, paid listings, ad review sites, and more.
Free classified sites, such as Craigslist, are becoming popular places for contractors to promote their business. Users usually check their services section and follow it up by requesting references.
The Better Business Bureau website (bbb.org) is also an excellent place to find leads. Having a BBB accreditation is a sign that the painting contractor is committed to meeting accreditation guidelines and resolving customer complaints that may arise. When a painting contractor adheres to BBB accreditation standards, it means that their reputation is important to them. They also have to pay accreditation and monitoring fees, so a BBB accreditation is an excellent way to tell that the company is committed to providing quality service. Steer clear of companies who do not seek BBB accreditation and continuously receive lots of unresolved customer complaints.
There are many other good sources to locate painting contractors, including the traditional sources such as television ads, radio ads, print ads, bulletin boards, classified ads on the newspapers, and yellow pages. They usually have contact details such as phone numbers and e-mail addresses. Give painting contractors in the Bay Area a call if you are interested in hiring them and ask them for references.