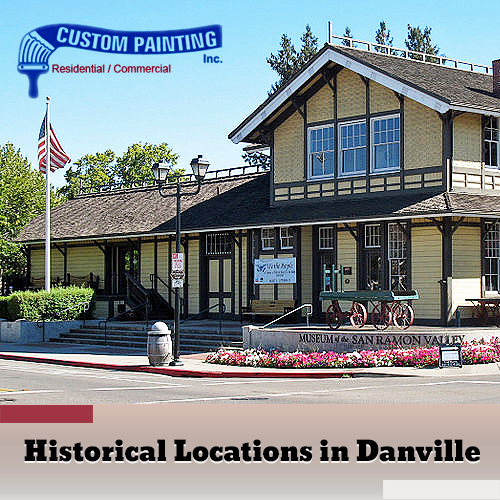 It is commonly called the "Heart of the San Ramon Valley," because of its location. Danville's history tells the story of continuous change and growth. But despite significant progress, Danville retains its small-town charm.
Danville is situated 30 miles from San Francisco and has the reputation of a "sleepy town," which only adds to its appeal. It is a favorite get away from the rush and hush of big-city life. If you love history, you can find a slice of American history when you visit important sites and landmarks in Danville. Many early buildings in Danville remain standing today. Here are some of them:
Museum of the San Ramon Valley
Any museum is the place to visit, especially for a first-time visitor to a city or town. The Museum of the San Ramon Valley's aim is to preserve, present, and celebrate San Ramon Valley's heritage. The collection of artifacts, photographs, and exhibits reflect the experiences, cultures, and institutions that have done so much to shape the valley's history.
The museum is found in the beautiful and fully restored Southern Pacific Depot and was built 1891. The building itself also warrants attention and admiration.  You can also enjoy exploring the great outdoors and expand a canoeing hobby, hike mountains and much more!
Eugene O'Neill National Historic Site
Located at 1000 Kuss Road, the Eugene O'Neill Historic Site is dedicated to America's only Nobel Prize-winning playwright, and the place where he wrote his last plays that include "The Iceman Cometh," "Long Day's Journey into the Night," and "A Moon to be Misbegotten."
It is also a national park, comprising of a 158-acre ranch in the San Ramon Valley and the house, known as Tao (pronounced as "Dow"), where O'Neill spent his last years. The house, built in 1937, has an Eastern- and Spanish-inspired design and décor. Reservations are required to tour.
Danville Oak Tree
While the Danville Oak Tree is not a man-made construction, it is nevertheless historical. It is one of the most notable landmarks in town and holds a special place among the locals. Located in Diablo Road and Hartz Avenue, this tree is estimated to be 350 years old. The Danville Oak Tree is known as the town's icon and symbol, but it has finally begun to show its age. It was discovered to be in danger of weakening and (possibly) falling. But thanks to the help and support from the community (who installed a special metal support structure) their beloved tree is still standing up.
Veteran's Memorial Building
The Veteran's Memorial Building is in the heart in downtown Danville. In recent years, it has had a major reconstruction work, which makes it more attractive to tourists. Since the 1920s, the Veteran's Memorial Building has been hosting meetings and events for the war veterans residing in Danville, as well as classes and programs for seniors. Its spacious community room can also be rented by the residents for holding special events.
Thanks to the efforts of the townsfolk, many historical sites in Danville remain proudly standing today. They are the testaments of the town's rich history and cultural heritage.
Part of the restoration work is repainting the buildings whenever possible and permitted. Paint applied to the exterior and interior surfaces must withstand extremes of both temperature and humidity. Moisture is one of the main causes of wood deterioration, and older buildings are more prone to decay if they are not addressed promptly. The primary purpose of paint is to eliminate such moisture, therefore slowing down deterioration both on the surface and, ultimately, in the underlying structures.
Thanks to modern paint techniques and technology, historical buildings have been lovingly restored. It takes skilled, professional, and licensed painters, such as Custom Painting, Inc., to carry out beautiful restoration work to these buildings that can withstand extreme weather elements for a long time.
Since 1982, Custom Painting, Inc. has taken pride in its first-rate service and unparalleled professionalism. We do both interior and exterior painting to residential and commercial properties as well as offer additional services like custom molding and "popcorn ceiling" removal. We service clients not only in Danville but also in surrounding towns and cities of the Bay Area.
Custom Painting, Inc. is a fully licensed and bonded professional painting service company. We are do our best to keep our customers happy with our work – customer satisfaction is our main goal. If you need painters for a high-quality paint job at your home or business, don't hesitate to contact us for a free estimate.