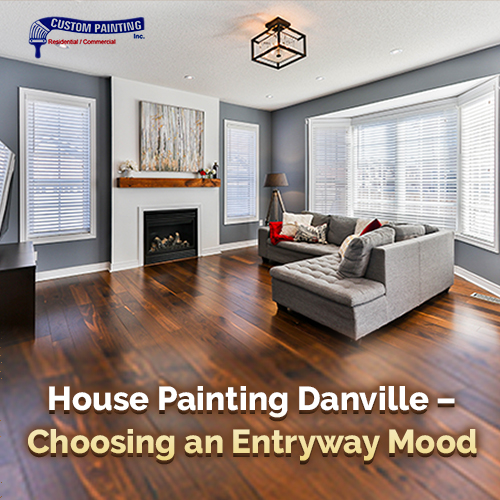 Homeowners believe that they only have one chance to make the big first impression – to spruce up their home's curb appeal. But from the perspective of many professional house painting Danville companies, they also consider the entryway as another good way to impress the homeowners' guests and neighbors.
The entryway makes a good introduction to the story of your home since it's the first area your guests see as they enter it. So, what kind of story do you want to tell? What kind of "feel" do you want to pervade throughout your entryway? If your aim is to thrill visually or create a more mellow and relaxing atmosphere, set a specific mood. While décor can give a distinctive character to any home's entryway, there's no better way to set a certain mood to it than paint colors.
Colors play a significant part in playing with your emotions. Picking the ideal paint color will enhance the mood of your entryway. But in order not to make a mistake by ending up choosing the wrong one, you should consider the following tips:
1) White
You can't go wrong with classic white – it can work for entryways of every size. It's bright and airy. But it also feels cold and clinical. The best thing about white, though, is that any other type of color and material can go well with it. It's easy to decorate an all-white space, right? You can paint an accent wall color or add some wood or metallic accents to give your entryway more life and character.
2) Black
Want to make a dramatic entrance? Choose black – it brings elegance to the space. It also sets off a strong, powerful vibe. But this color is best for spacious entryways bathed with lots of natural light. If you choose black for painting a narrow and dark entryway, it can make the space even smaller, darker, and looking more claustrophobic.
3) Blue
If you don't want your guests to feel overwhelmed, try any shades of blue (such as teal, for instance). That will give your entryway a soothing vibe. Since blue is cool and relaxing to the eyes, it gives off a calming effect, which makes it a great entryway color especially when you come home from stressful activity.
4) Gray
Gray is an elegant and sophisticated color, and any shades of gray can do. But just like black, darker shades of gray won't work well in a narrow entryway that lacks natural light. Such shades in a small and narrow entryway can also make you feel gloomy and claustrophobic. To address this, you may choose to paint your entryway "half-half" — that is, paint the upper half of the walls with gray and then the lower half of the walls with white or any light color (or cover them with wallpaper).
5) Green
Green makes the space look refreshing, something which invigorates your spirits but relaxes your high-strung mood at the same time. If you plan to put some decorative indoor plants in your entryway space, green will make a perfect backdrop to display your leafy collection.
6) Pink
Pink gives off a soft, yet fun and bubbly vibe – not to mention it's a feminine color. But some shades of pink are way too vivid that they can irritate the eyes (and your mood as well), so it's best to use them as an accent color. But if you plan to paint your entire entryway pink, you can pair it with metallic décor or wood.
7) Yellow
Who doesn't want a happy home? Yellow can make entryways look sunny, warm, inviting, and cheerful. If you have a short or narrow entryway or an entryway that doesn't have enough natural light, any shades of yellow will be perfect.
Let house painting in Danville professionals help you choose the ideal entryway color that will set the mood and tone for the rest of your home.