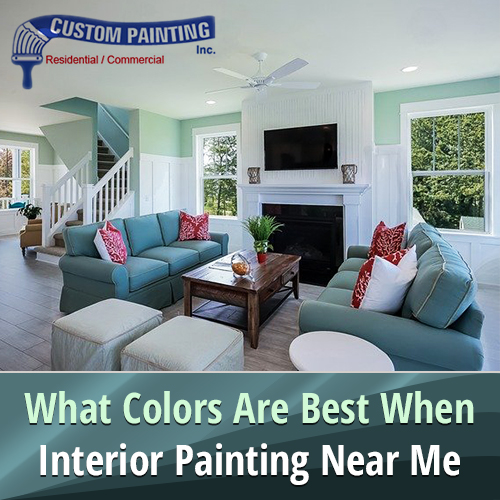 Some questions don't beg for a clear-cut and straightforward answer, such as "what colors are best when doing an interior painting near me?"
It depends on several factors, like the size of the space, the amount of light in it, and the function of the area to be painted.
And these are the reasons why choosing a color palette for the interior is far from a piece of cake. The colors you see on the paint chip in the aisle of your local paint store can't convey how they will end up on all four walls at different times of the day. And this is why most homeowners end up using neutrals, such as the usual whites and beiges because they are afraid of making a mistake with color.
Indeed, choosing colors for your interiors can be challenging. And sometimes, it can be even more overwhelming than carrying out the painting project itself.
But you don't have to shrink away from trying to inject some color into your space. It's best to have the experts with you to guide you through choosing the best colors for your home.
Color can affect our emotional and mental state. Different colors connote a specific mood and action, such as red for passion and appetite, yellows for cheerfulness, and blue for calm and relaxation.
While the color palette can be tweaked according to necessity or preference, here is the general guide for choosing colors for your home's interiors.
Living room — People choose neutrals for the living room walls, such as whites, beiges, and light grays. While these neutrals are among the best choices, why don't you choose some shades of green (fresh and subtle at the same time) or blue (calming and stabilizing effect)? You may also dare to go for unusual choices like royal purple or black for dramatic effect and highlight other architectural details.
Bedroom – For most people, a bedroom is a calm sanctuary. Shades of blue, green, and soft tones of purple, especially lavender, will evoke a serene atmosphere. If you want to have a more modern look for your bedroom, rich shades of gray will be perfect. Apart from being feminine, pink will blend well with gold or copper accents. Certain shades of pink, such as rose pink, will give your bedroom a soothing and comforting atmosphere. For bedrooms that don't have sufficient light, it's best to choose white or brighter shades of yellow for a sunnier vibe. Some people would choose unlikely colors for the bedroom, mainly black and red, but they can be good options if the color scheme is well-planned.
Kitchen – The kitchen is probably the most renovated area of the house. It's more than just an area where food is stored, cooked, and prepared. It's also a place for family bonding and hosting parties, especially if it has a bar (and is adjacent to the dining area). If you need to whet your appetite, warm colors like reds and yellows are unbeatable choices. Red-white or yellow-white can be an excellent combination for the kitchen. Green is also a fantastic option, as it makes the kitchen look fresh, organic (think of greens and herbs), and airy. There are many different shades of green to choose from, such as mint and apple green. If you're feeling adventurous, try emerald or pine green. As long as it's the correct shade, gray provides a perfect base to build upon in a kitchen and can be paired with a wide array of other colors. But if you're a stickler to cleanliness – the type who can't help but wipe even the tiniest splatter away – white is a no-brainer choice. White and other brighter neutrals (like beige) are perfect options for smaller kitchens.
Bathroom – The bathroom is the second most renovated area next to the kitchen in a house. For practical reasons – and bathrooms are typically the smallest area of the house – whites and beiges are no-brainer options. But if you still want your bathroom to look neutral but give it a warmer appearance, go for taupe and soft grays. You may also want to go for muted blues, teals, pistachio, or lavender to give your bathroom a spa-like feel. For those who'd like to commit to an earthy color scheme, mustard yellow, tan, dark rose gold, cream, or natural stone colors will go best with wood accents. If you're still sticking to white, though, you may paint your bathroom cabinets with other colors like charcoal, blue, green, and brown. You may want to add some metallic accents, such as gold-colored copper faucets, mirror frames, and even metallic accessories (such as a soap dish or handwashing dispenser) to give some glitter to your bathroom.
Let the painting experts from Custom Painting Inc. guide you through the process of selecting the right color for your interior painting near me. As it is your home, we would also love to hear your suggestions and preferences and the mood and ambiance you'd like to achieve in specific areas so that we can work together to choose the right color palette for your home.