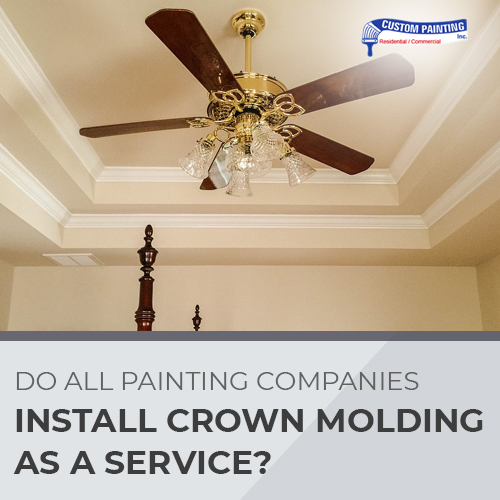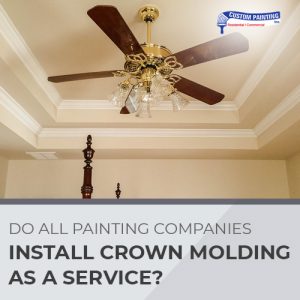 For apparent reasons, many homeowners add decorative finishing elements, such as crown molding. But crown molding's purpose is far from merely aesthetic. It has other benefits, too, such as hiding surface flaws and increasing a home's resale value. When you're considering adding crown molding, you may wonder do all painting companies install crown molding as one of their services.
Some painting companies offer crown molding installation, while others do not, so you have to search for painting contractors in your area who also offer this type of service. When painting contractors also offer crown molding installation to their clients, both parties will benefit from them. Customers don't have to look for a building contractor who does crown molding installation, which means significant savings. For the contractors, having services other than painting opens them to more work opportunities and enables them to get ahead of the competition.
Again, crown molding's purpose is not only aesthetic. Installing crown molding between walls and ceilings helps hide flaws and gaps, painting mistakes, and other structural irregularities and inconsistencies, giving your home's interiors a neater and more welcoming appearance.
Crown molding also creates an optical illusion that can make space bigger or higher, "lifting" the area by lines and shapes that draw the eyes upwards. Thus, it creates an illusion that a room looks more elevated than it is.
In addition, crown molding enhances the appearance and adds a personal touch to otherwise blank walls. Since it's a permanent decorative element, it's part of the building that remains even after the home's ownership changes. You may only want to repaint it to update its look.
If you're planning to sell a home in the near future, why not install crown molding? It helps increase your home's resale value. When the installation is proper and tasteful, and the right paint colors complement it, crown molding makes your home look newer, neater, and more complete – 100% ready for sale!
Choosing crown molding is far from easy – it can be as tricky as choosing paint colors! They come in many materials, styles, and colors. As long as you know your home's architectural style, finding the perfect crown molding will be a lot easier. And, of course, not to mention the cost, which is every homeowner's primary concern when doing a home improvement project. Your paint contractor may offer budget-friendly options that suit your home interior's style and appearance. They may suggest crown molding with less ornate designs or less complex installation processes, which typically cost less. Crown molding options made of PVC, polyurethane, and flex have simple designs, but they're more affordable and easier to install. You can even DIY install them to save more money.
The following is a list of the common types of the crown molding material. Which of them is right for your home?
Plaster – Plaster is probably the most expensive option. It's also the heaviest but the most fragile type – it can be easily cracked. The most significant benefit of plaster crown molding is that it can be cast into detailed profiles that are otherwise difficult to carve on wood and will never look good in plastic. Plaster crown molding is used for grand interior decorating, typically with plaster walls.
Solid wood – Like plaster, solid wood is a traditional crown molding material. Its natural color and grain patterns bring warmth to a room. Solid wood is usually affixed with a wood adhesive, nails, or screws. You need to have it pre-drilled with holes for the nails or screws. Then the holes with putty and sand them to smooth the surface and make them invisible when coated with paint. Solid wood can come from the simplest to the most elaborate designs. The only downside is the likelihood of warping and swelling due to moisture and weather changes.
Medium-density fireboard (MDF) – If you want wood crown molding but find solid wood expensive, you may want to go for a medium-density fireboard (MDF) as the more affordable alternative. It looks like natural wood, you that won't tell the difference. But compared to wood, MDF fares better when resisting moisture and heat. However, it tends to dent easily, so it's typically for interiors only.
Polyurethane – Polyurethane gives the appearance of plaster at a more affordable price. It is resistant to heat, moisture, pests, and rotting, making it ideal to use for both interior and exterior.
PVC – PVC is the best choice for damp areas such as exterior walls and bathrooms. It won't rot or warp and remains stable under various weather conditions. However, it needs to be repainted to reduce the sheen.
Flexible or flex – As the name implies, flexible crown molding is made of pliable material, making it easy to bend around curved walls. It's lightweight and easy to install by using adhesive. It can also withstand extreme weather conditions, making it ideal for indoors and outdoors.
Polystyrene – Trademarked as Styrofoam, polystyrene is the most lightweight crown molding option. It's typically used for a quick interior redesign but can also be used outdoors. Installation is easy. All you need is a knife or a pair of scissors and a simple construction adhesive. The downside of polystyrene is that it has less clean and crisp edges. It's also fragile, so it tends to break if you don't handle it gently enough.
Do all painting companies install crown molding as a service? No, all painting companies don't, but if you're looking for a company that offers painting and crown molding installation services, you've come to the right place! In addition to painting services, Custom Painting, Inc. has the experience of installing crown molding and window casings, box ceilings, and wainscotting if needed. Contact us by calling 925-294-8062 or use our contact form to schedule an appointment for a free estimate.