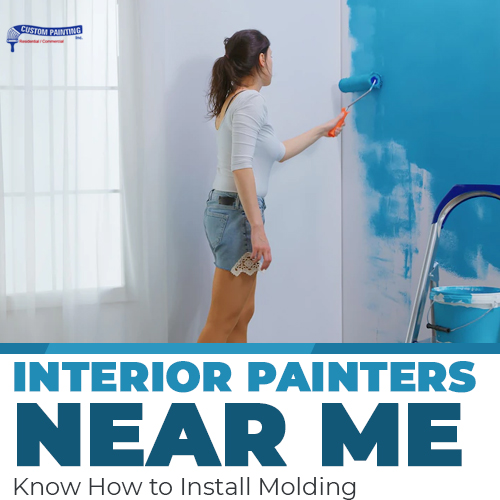 If the current look of your home's interior doesn't satisfy you, you can elevate its style by adding crown molding. Then you can hire interior painters near me to paint the crown molding with colors that blend well with the rest of the interior.
Crown molding is the molding that crowns the surface or structure, particularly molding installed between the top of the wall and the ceiling. It adds architectural interest and brings elegance to your home's interior. Crown molding also gives your home a nice, finished look. You may have probably seen crown molding that adorns other people's houses and been inspired by them to install one in your home.
How do you decide between there many types of crown molding? First, decide on what type of molding you want. If your room is formal, you should opt for a two-piece molding. But if you want to add crown molding to your bedroom, for instance, a one-piece molding is enough to make your home look nice and finished. 
Your local home improvement store will offer you a variety of moldings. Spend enough time browsing every option carefully. Then choose crown molding that isn't warped or has damaged parts. There are also pre-primed moldings available that will save you from prep work. If you prefer stained (not painted) molding, stainable molding is also available, but it is usually more expensive.
You can find crown molding in 8-feet, 12-feet, or 16-feet lengths. When possible, you want a long, continuous piece of crown molding to fit the entire length of your room. If you want to save money by buying shorter pieces of crown molding, that would not be a good idea. The seams will appear more apparent, and the joints will be more challenging to hide. To make things easier, you can buy some decorative corner molding to conceal the angled cuts you would otherwise have to make. Besides, these decorative corner pieces will make your room look a lot fancier.
You may seek the services of a handyman to install the crown molding. But if you want your crown molding to be painted with colors that match or blend with your room's color scheme, it's a good idea to hire residential painters who also install crown molding. It can be hard to find the correct paint color because what you see in the color swatches will look different once it is on the surface. Choosing the right color for your crown molding is more complicated than it appears; thus, it's only logical to find a professional painting contractor who can also install crown molding. 
Before the painters install the molding, they will usually apply two coats of paint to it. Paints with a semi-gloss finish are the best for crown molding and should match or blend with the primary color of your room. 
Residential interior painters will usually bring specific tools for the job. They may include a power miter saw to cut the trim into correct angles and a drill for creating pilot holes and finish nails (such as 2" 8d nails) to secure the molding to the wall. They will probably do some caulking, as walls may not be completely flat or perfectly angled due to weather or seasonal changes. 
If you need some custom crown molding work, the skilled team at Custom Painting, Inc. can help you with that. We can make your ordinary abode into a custom home you've dreamed about having.
While most interior painters near me offer crown molding services, Custom Painting, Inc. has the legitimate experience to produce the look you want. We also provide other services such as window casing installation, wainscoting, or box ceilings if needed. And if you need help choosing a color for your crown molding, you may request a free color consultation from us.