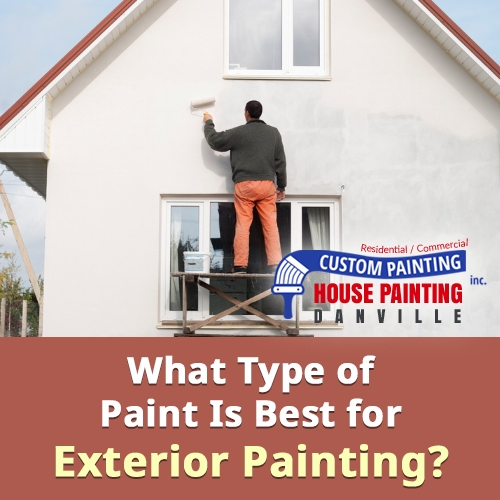 When selecting which type of paint is best for exterior painting, there are many factors to consider. There are so many exterior paints on the market that choosing the best one can be daunting. If you decide not to do research or a consultation with the paint experts, you may buy paint that is a poor match for your siding (and most likely costly repairs in no time).
We've compiled a guide to help you choose the best paint for your next exterior painting project.
Latex paint
Latex is a water-based paint made from synthetic binders, mainly acrylic resin and polyvinyl acetate. It is probably the most popular type of paint for many reasons:
It dries faster than oil-based paint.
It is easier to apply and clean.
It is non-flammable.
It is low on volatile organic compounds (VOCs).
It provides long-term flexibility.
It is budget-friendly.
It is available in several color and finish options.
Today's latex paints have better resistance to cracking and chipping.
Latex paints are a good choice for almost every type of siding because they are highly versatile. You can use them on wood, cement, and even metal. But they won't adhere well to vinyl siding.
Also, latex paints can have issues with durability, especially under harsh weather conditions. So, investing in latex paints specifically made for outdoor use is best.
Oil-based paint
Oil based-paint is considered one of the most durable paints. Here are the other good things about oil-based paint:
It dries down to create a hard, smooth finish.
It can withstand weather elements, making it excellent at repelling moisture and scratches.
It has a greater flow level than latex paint.
Unfortunately, oil-based paints tend to crack and become dry and brittle over time since they are not flexible. Also, oil-based paints contain high VOC levels, so they're not as eco-friendly as the other paints. Because the VOCs oil-based paints tend to create, their use has been banned in some states.
Oil-based paints can be applied for high-traffic areas such as siding, trim, decks, and fences.
Oil-based paints are ideal for wood, metal, and concrete siding. But due to their inflexibility, they are not recommended for vinyl siding.
Oil-based paints are impermeable and slow to dry. Thus, they can trap water, resulting in various surface problems like bubbling, mold, and mildew. Ensuring the exterior surfaces are completely dry before applying oil-based paint is best.
Acrylic
Acrylic is another water-based paint made with acrylic resin. Like latex paint, acrylic paint is quite popular for exterior paint projects for several reasons:
The chemicals in acrylic paint cause it to have better flexibility.
It is more resistant to sun exposure than latex paint.
It is more durable than latex.
It dries as quickly as latex paint.
It has excellent adhesion properties.
It is non-flammable.
It is low on VOCs.
Acrylic paints become porous when dry, thus allowing water to escape. Acrylic is ideal for various surfaces, such as concrete, masonry, wood, particle boards, and vinyl – 100% acrylic paint is usually best for vinyl siding.
However, please be aware that despite being more durable than latex, acrylic paints are less durable than oil-based paints. Like latex paints, vinyl paints do poorly under harsh weather conditions. They can also be expensive, especially in large quantities.
Epoxy paint
While epoxy paint is an acrylic latex product, it is distinct from regular acrylic paint. Epoxy paint contains a small amount of latex, making it stronger and more durable than acrylic. While you can use it both indoors and outdoors, epoxy paint is best known as an exterior paint for many reasons:
It is extremely tough and durable.
It is highly resistant to water, oil, grease, grime, gasoline, and other chemicals.
It is corrosion-resistant.
It is easy to clean.
Due to these attributes, epoxy coating is ideal for garages, driveways, pools, and sidings of almost every type. It is also the top choice for several industrial coating applications, including steel and metal.
However, epoxy paint is difficult to apply, gets too slippery when wet, and is difficult to clean and remove. It is also more expensive than the other paints.
Elastomeric paint
If you can imagine rubber in liquid form, you probably think of elastomeric paint. As the name implies, elastomeric paint is highly flexible, making it ideal for exterior masonries like brick, stucco, and concrete. Here are the pros of using this type of paint:
It is highly flexible.
It is significantly thicker than traditional paints.
It is durable.
It is breathable.
It is water-resistant.
It is the most energy-efficient of all the other paints.
It can conceal tiny surface imperfections.
It is ideal for masonry and swimming pools.
Despite its high durability, elastomeric paint doesn't cover as well as other paints due to its thickness, making the application challenging. So, it's unsurprising that elastomeric paint dries much slower than other paints. In most instances, it takes up to 72 hours to cure
There's no straightforward answer as to the best paint for exterior painting. Homes and commercial buildings can have many different exterior surfaces. It's important to know what type of siding your home or commercial building has so that you can make an informed decision when choosing exterior paints. Contact Custom Painting, Inc. to discuss your exterior painting project if you are unsure.