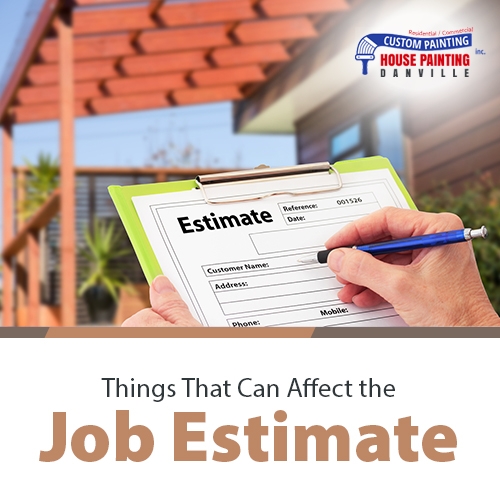 A fresh coat of paint keeps your residential or commercial property looking great and gives visitors an excellent first impression of your property. In addition to aesthetic improvement, when you need painting contractors in Danville or other Bay Area cities, you want to know it will protect your building from weather elements and extends the building's life. 
Understanding residential or commercial painting costs can be challenging, and requirements can vary from project to project. 
It's also important to understand that no two painting jobs are alike. Also, not all painting companies offer the same set (or quality) of services, as shown in their respective painting job estimates. This difference would explain why most painting blogs and articles recommend getting estimates from at least three painting contractors. Getting multiple estimates is for comparison purposes – taking time to understand the differences in cost estimates will make hiring the right painter for your project easier.
Clients, naturally, have the right to know what factors can affect a painting job estimate. After all, budget is everyone's biggest concern when planning a painting project, so they want to make sure that they hire the right painting contractor who will offer the best price and deliver the expected quality of service.
The complexity of the paint job
Whether it's a house painting project or a commercial painting job, the size and the architectural style are good indicators of the job's complexity.
Whether your home is a single-story bungalow built in American Craftsman style or a sprawling contemporary-style building downtown, the way your home or commercial building was built will enable a painting contractor to know the complexity of the painting job.
A 5,000-square-foot, 10-story Brutalist building consisting of wide and flat bare concrete will be easier but as challenging as a 1,500-square-foot, two-story Victorian home with elaborate woodwork, trim, and other things requiring more attention to detail.
Paint prices range from $15 to $80, depending on the quality, brand, and color.
The amount of paint needed for the job
Knowing the architectural style of a home or commercial building will give the painting contractor a clearer idea of how much paint will be needed for the project. 
For example, a 1,500-square-foot home requires around 10 gallons of paint, while a 5,000-square-foot office building requires about 25 gallons. Of course, the number of coats of paint applied on the walls will increase the gallons needed.
Your painting contractor will give you a reasonable estimate of the paint prices, going between $15 and $80. It also depends on the quality, brand, and color you select for the color palette.
Determining labor costs
Ideally, it will take two full days to paint a 1,500-square-foot home or five days to complete a 5,000-square-foot commercial building. 
However, a paint job consists of more than painting the surface. There's also cleaning and surface prep work that must be done before painting. Prep work is usually a time-consuming task. Depending on the size and complexity of the building, it can sometimes take a while before the first coat of paint is applied. But it's the prep work that makes a quality paint job.
In addition, architectural details might need more work and attention, or physical obstructions (such as tree branches or tall bushes) can slow the progress. If working on a commercial building or multi-story home, furniture and equipment must be covered or moved away from the site before the actual surface prep work.
Now, if a skilled painter charges $500 a day and the work takes two days, that's already $1000 for the labor of one painter alone. Naturally, the bigger and more complex the paint job will require more painters you'll need to hire, which will add to your expenses. You have to be careful of this factor when reviewing an estimate.
The best way to obtain a painting job estimate
Getting a painting job estimate is best done after the painting contractors in Danville has done a physical inspection or assessment of your home or commercial property. That way, you and the contractor can discuss the project's specifics. Again, no two painting jobs are alike – except if the jobs are for the same building.
So, contact Custom Painting, Inc. at (925) 866-9610. Let us look at your next project, and we will provide you with an honest and accurate estimate of its costs. Our estimates are always free of charge!