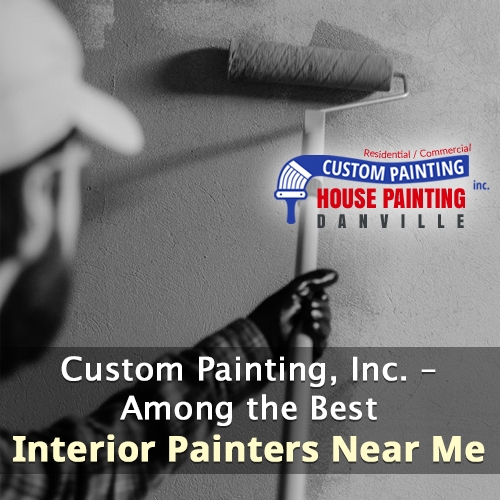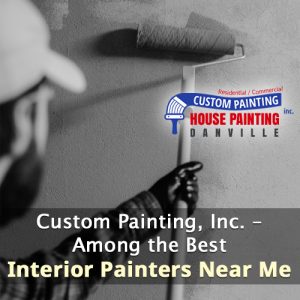 Unlike exterior painting, interior painting near me offers much more freedom and flexibility. You can paint your room any time of the year and in any weather (as long as the space is well-ventilated). Also, painting interior walls is not too restrictive when it comes to colors. You can paint your room with any colors and shades that suit your personality and design choices.
Among the best interior painters near me, choose Custom Painting, Inc. for your interior painting needs.
Benefits of hiring Custom Painting, Inc.
Although you can hold a paintbrush and apply a coat of paint, you can see the difference when a professional painter, such as Custom Painting, Inc., does the job.
Although hiring professional painters seems expensive, the benefits you'll get will be worth the cost. You'll never have to worry about the potential problems you could have if you do the paint job by yourself or a cheap but inferior painter does the job.
1) License and insurance
Professional painting contractors like Custom Painting, Inc. have the necessary licenses and insurance. If any accident occurs on your property, you are protected from liability as our workers are already insured. As professionals, we will work to the terms of your contract and in the specified timeframe. That gives you peace of mind when working with us.
2) Quick service
Custom Painting, Inc. will be able to provide quick painting services. The combination of skills and quickness from our paint crew will result in the fast completion of painting projects, preventing disruption to your daily life. It gives you all the advantages of a quick paint job without sacrificing quality.
3) The tools to do the job
Our painters will bring all the tools and equipment necessary to provide the best finish possible. They may own other equipment that only some homeowners may have heard of, let alone know how to use. They include sprayers, power washers, roller covers, and more.
Of course, DIY home painters can purchase any of these tools but may have to learn how to use them. Plus, we don't just have the tools and know how to use them; we also work together with professional crew members who can help them complete the job quickly and efficiently.
4) Less work for you
Painting a home is more complex than it seems. It's a lot more work than just applying paint on the surface.
You must first clear the room of furniture and decor, and the walls must be cleaned and prepped, which takes a considerable amount of time. After applying paint, you'll have to wait for it to dry completely. Once the paint has dried, you'll have to clean up after yourself, put back all the furniture and decor, and dispose of waste properly. Most of the paint projects go to the site and surface preparation compared to painting the walls.
Custom Painting, Inc. will provide surface prep work before painting and clean-up services at the end of the work day and the end of the project. We will also pay attention to all the smaller details, providing you with the best and most ideal paint job.
5) Save you valuable time
Your time is valuable, and painting can be a long and painstaking process. Some jobs require several hours of prep work and clean-up, leaving you with little energy for other responsibilities. Why torture yourself for hours and, likely days, to end up with a below-par paint job when you can have professional painters, like Custom Painting, Inc., do it quickly and efficiently? You will have a great-looking and durable paint finish without expending any extra effort.
6) Expertise and experience
If you paint a room for the first time, it will involve some learning curve. You may end up with a finish below your expectations owing to your inexperience. This is why many homeowners would instead hand the job to seasoned house painters because they know they can meet their expectations.
Custom Painting, Inc. know other aspects of painting that homeowners don't know, including the right paint finish, the proper tools to apply them, the correct way to prepare surfaces before painting, and even the best safety precautions. And those are the reasons why we are called "professionals."
7) Getting a quality paint job that lasts
Imagine doing the paint job by yourself, but you're cutting corners because you want to save time and get the job done quickly. You don't take time to prepare the surface, use cheap paints, and haphazardly apply the paint.
The result comes out poorly – fading paint, peeling, cracking, chipping, etc. – and you may have a professional repaint it anyway, costing you more money and time.
Even if the results come out just fine and you're somewhat satisfied with your work, a paint job by professionals is guaranteed to last longer. This means that you don't have to paint your house repeatedly, leaving you with many more years until the next paint job. Hiring Custom Painting, Inc. to do the work can save you time and costs while enabling you to enjoy a great-looking finish that will last for many years.
At Custom Painting, we know how important your home is to you and your family. This is why whenever we're inside your home or painting on the outside, we take special care to treat your home and property as if we do the same to our homes.
Here is what to expect when working with Custom Painting, Inc.
Planning a house painting project can be stressful, mainly if you haven't worked with a painting contractor before. When choosing a painting company, find one that has been in business for a while so you know they have the experience and can provide the results you desire.
We have over 40 years of experience in the paint service industry.
You'll get a quick response when you call.
We value punctuality – from the initial assessment of your property to the final walkthrough after the paint job.
We provide a timely estimate.
We provide a concise but accurate and thorough quotation.
We do thoughtful scheduling prior to beginning to paint.
Strong leadership from the foreman.
A skilled and dedicated staff.
We provide quality workmanship.
Expect an attention to detail from start to finish.
We do troubleshooting and problem-solving during the project and after.
We use nothing but the highest-quality primers and paints.
We offer a full one-year guarantee on our work. Extended warranties are also available.
We always do follow-up visits after the project is completed.
Liability insurance of $4,000,000.00.
Workers' compensation covers all our employees.
Have your interiors professionally painted in the Bay Area
If you live in or near the Bay Area and need to have the interiors of your home painted, call the professionals from Custom Painting, Inc. We assure you that we will do the job right the first time – and you'll never have the problem of having to repaint your home! Call us at 510-795-0903 or contact us online today!