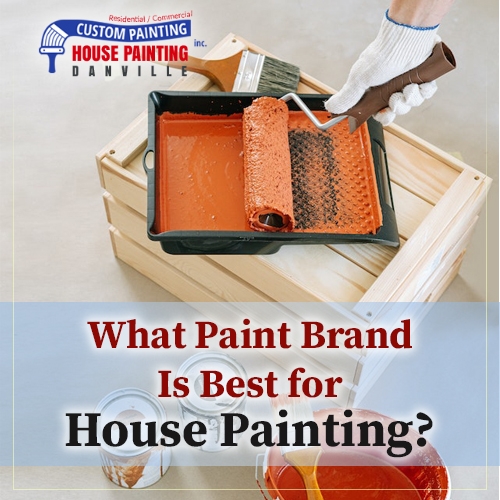 If choosing the paint colors and finishes for house painting in Danville is difficult already, throw in the paint brands and make your decision-making even more challenging.
Paint manufacturers have been excelling at making paints in ways never before imagined. If there was only one or a couple of paints in the past, now there are paints formulated for virtually every type and condition of the surface.
We go back to the paint brands. Make choosing paint easier by knowing the paint brand previously used on your interior or exterior walls. Or visit the home of a friend or neighbor to check out their latest paint jobs. They used a reliable brand if the paint still holds up well for six months or more.
You can also research interior or exterior painting in Danville companies to find out which paint brand they regularly use. Some painting contractors have a favorite brand, but it is not uncommon to become loyal to one brand or the other.
However, it's also true that when looking for quality paints, other contractors will not think twice about switching between brands because it's more about what's available than the better brand.
Sometimes, the customer will have a specific color preference or specifications (such as zero-VOC formulation) offered by only a handful of brands, which can also influence decision-making.
Below is a list of the paint brands used often to help you tackle any house painting project you're planning.
1) Sherwin-Williams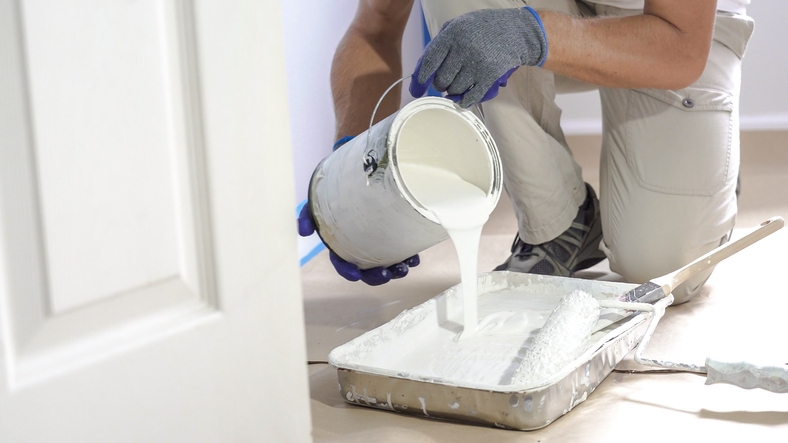 Sherwin-Williams was established over 200 years ago and is now a global paint company. If the paint price is not an issue and you want a premium paint brand, Sherwin-Williams' wide range of thick, durable, and versatile paints protect and give style to your interior or exterior. DIY and professional painters alike trust the brand for their house painting needs.
Most Sherwin-Williams products fall in the moderate to high price at around $50 per gallon.
2) Benjamin Moore
Benjamin Moore is another premium paint brand. Its paints come in various colors, finishes, and formulations, providing desirable coverage and consistency. However, high quality also means a high price tag. A gallon of Benjamin Moore paint is between $30 and $50. According to the company, its paints are quick to dry, resistant to fading, and may require fewer coats to cover the surface compared to other brands sufficiently.
3) Behr
Behr is another popular paint brand that has been in existence since 1947. Its products are sold exclusively at The Home Depot stores.
Behr is one of the more budget-friendly choices compared to other paint brands, costing from $40 to $50 per gallon. One thing that makes Behr a good option for interior painting is its zero-VOC formulation, meaning you won't have to worry about lingering chemical odors.
Remember, depending on the color choice, the thinner paint coverage may require more coats of paint, thus increasing your material expenses.
4) Rust-Oleum
If you spray as your paint application, Rust-Oleum would be your best choice. While it is mainly known for its commercial, automotive, and industrial paint products, it also offers house paints. Aside from its spray paints, the brand sells paints in regular gallons. Rust-Oleum is widely available at retailers such as Wal-Mart, Lowes, Ace Hardware, Home Depot, and Rona.
The brand offers several paint color options. Per Rust-Oleum, its products are less likely to fade, chip, or reveal unsightly marks. However, they come at a higher price, with products costing between $100 and $120 per gallon.
5) PPG Paint
For those looking for decently priced paints with an equally decent performance, PPG Paints should be your choice. You can find PPG Paints at big stores (like The Home Depot) and independent retailers. The brand has a diverse line of interior and exterior paints.
According to the company, the brand's premium paints offer excellent coverage, requiring only two coats of paint at most. They provide good adhesion and are resistant to stains and UV damage.
PPG Paints are at the lower end of the price spectrum, at around $25 per gallon. The biggest downside is that the lower-end paints are thinner, requiring more than two coats. If you are painting areas that don't experience a lot of abuse, PPG Paint might make a good choice. One great thing about this brand is the more than 2,000 color options.
6) Kelly-Moore
Kelly-Moore offers paint products for professional and DIY painters, costing around $40 per gallon.
The brand was first founded in Texas in 1946. Today, the company has locations in various places across the country. It is known for its durable exterior paint. While Kelly-Moore also offers interior paints, the colors may be limited compared to the other brands.
Conclusion
Not every room, surface, or application requires the same paint. However, paying attention to proper surface preparation can go a long way, whether you're doing exterior or interior painting in Danville. Then, find paints that you can work easily with and ones that will match your budget.