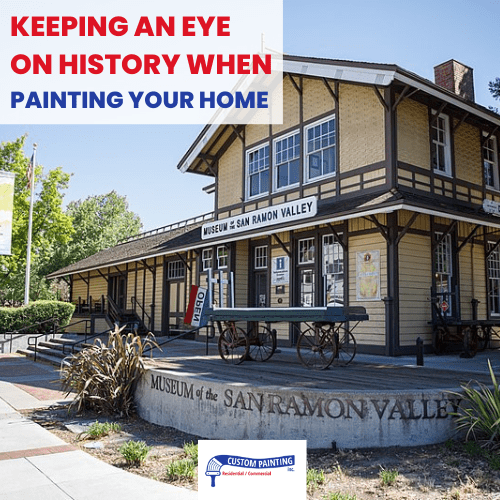 Historic homes have a certain character and charm, which is why they are more desirable and sought-after than ever. After all, we just don't build and paint houses like we used to. Unfortunately, many old houses have been on the receiving end of neglect, soaring property prices, and new development. 
Being mindful of the history of your home
If you live in a historic home, you should recognize how important your role is as its caretaker. With professional help from house painting in Danville, CA contractors, you will be able to preserve the history of your home and pass it on to the next generation.
Besides their historical significance, old houses are known for their unique architectural elements and rich details. They are a testament to the ancient craftsmanship that is mostly lost in today's residential buildings. Historical houses are the jewels in your neighborhood. These historic houses will stand out even more with assiduous restoration and regular maintenance.
Historic homes and places to see in Danville
If you're a history enthusiast, visiting Danville won't disappoint. Here are some of the must-do historical activities when you're in town.
1) Visit the Eugene O'Neill National Historic Site
Fans of the Nobel-prize-winning playwright Eugene O'Neill will be in for a treat with a visit to this property on Kuss Road. This historic property preserves the "Tao House," an Asian-inspired home where O'Neill and his wife lived from the 1930s through the 1940s. 
Several years after O'Neill died in 1953, the house was on the brink of demolition. Fortunately, the Eugene O'Neill Foundation saved the house by raising funds to purchase it. 
The house was declared a National Historic Landmark (1973) and a National Historic Site (1976). Since 1980, the house has been under the management of the National Park Service. Visits are made through reservations, except on Saturdays, where self-guided tours are allowed.
2) Check out the Museum of the San Ramon Valley
Many local museums are housed within residential properties. But the Museum of the San Ramon Valley is housed within a former late 19th-century train depot, which has been lovingly restored. The museum is dedicated to preserving and celebrating Danville's rich history and heritage. It also serves as a souvenir shop.
3) Take a further historic walk around the downtown
Downtown Danville has around 28 marked historical gems, including the Museum of the San Ramon Valley. Most of these antique structures were residential properties. Take a historic walk to see and admire the buildings and learn about their origins. Almost all historic houses listed below have been converted into commercial properties.
Hartz Avenue:

Bret Read House (571 Hartz Avenue) — Neo-classical Row House built in the late 1900s.

Cabral House (551 Hartz Avenue) — Craftsman and eclectic-style bungalow built in the 1930s/

Eddy House (500 Hartz Avenue) — Queen Anne-style cottage built in 1903.

Foster House (404 Hartz Avenue) — Craftsman-style house built in 1926 as a second structure built on the site (the original Foster House had been burned down).

Front Street

Grange Hall (233 Front Street) — National Fold Style house built in 1873

Vecki House (169 Front Street) — Built in 1866.

Osborn Home (15 Serena Lane) — Greek Revival Style house built in the 1870s.

Podva Farmhouse (809 Podva Road) — Stick (Victorian)-style house built in the late 1890s.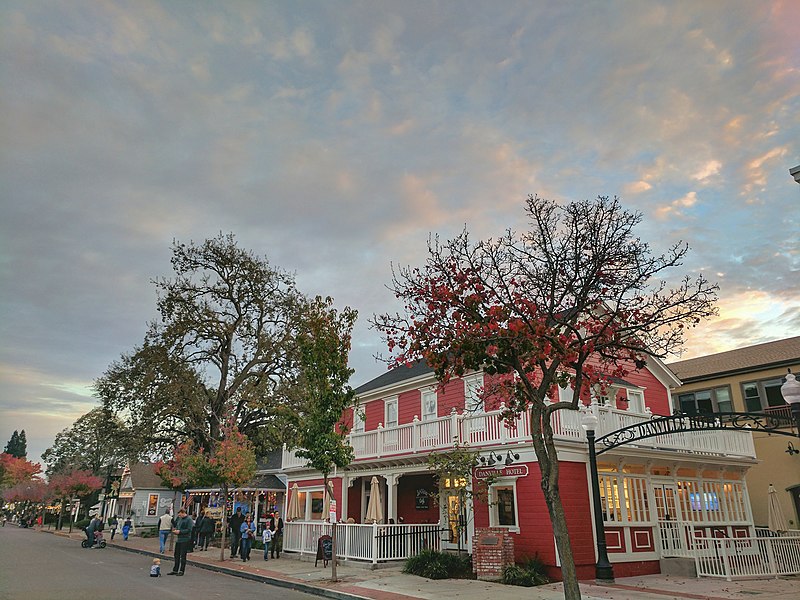 Preservation and development can work together.
The historic homes-turned-commercial buildings in downtown Danville are fine examples of how preservation and redevelopment can benefit the town's community. 
Many of these historic homes in Danville faced demolition and neglect. Fortunately, the town's officials purchased them as they recognized their historical significance and commercial and touristic potential. These quaint and charming former homes now function as business and office spaces, increasing the town's appeal and boosting local tourism. 
Types of house paints used in the past
Before the advent of pre-mixed paints in the mid-19th century, house paints were mostly mixed on the site and in small amounts. These paint products were generally short-lived and thus were made only when they were needed.
Back then, house paints were based on naturally occurring ingredients like oils, resins, gums, and proteins. However, synthetic resins were introduced in the early 20th century, revolutionizing the house painting industry. 
Water-based house paints already existed as early as the 1600s and subsequent improvements were made over time. However, it was not until the 1940s and 1950s that the introduction of latex paints signaled a major development in water-based paints to improve and enhance their quality and use. Since then, water-based paints have been the most preferred for residential painting. 
Lead was one of the common paint ingredients way back and had been used for a long time until it was discovered to be toxic. Water-based paints like latex came just in time for the ban on lead-based paints across North America. Lead paints were banned in the United States in 1978.
Restoring traditional paint in old and historic homes


Custom Painting, Inc. does whatever it takes to restore your historic homes' original appearance and beauty. 
Restoration and preservation of the character of these historic homes require delicacy. That's why researching a home's history is essential to determine what type of paint was used when the house was built. Knowing a historic home's past allows us to protect and preserve its structural integrity while maintaining its unique style. 
Undamaged areas in a historic house can be painted just like any house. Our paint crew ensures that the new paint matches the original color as closely as possible. However, recreating the original color of an antique home may pose some challenges. The house's original color has changed over many years due to biological and chemical changes in the structure of the coating, fading, or changes in color cleanliness due to dust, dirt, cobwebs, etc.
It is why we clean and prepare surfaces first before painting. This step is the key to restoring the original color and finish of the surfaces as much as possible. It may be time-consuming, but skipping it won't do any good, either! Surface cleaning and preparation may reveal the actual color of the house and even the architectural details that might have been engulfed over time by dust and dirt.
If you want to maintain the historical significance and restore the original beauty of your antique homes, let house painting in Danville, CA professionals know! We look forward to hearing from you.