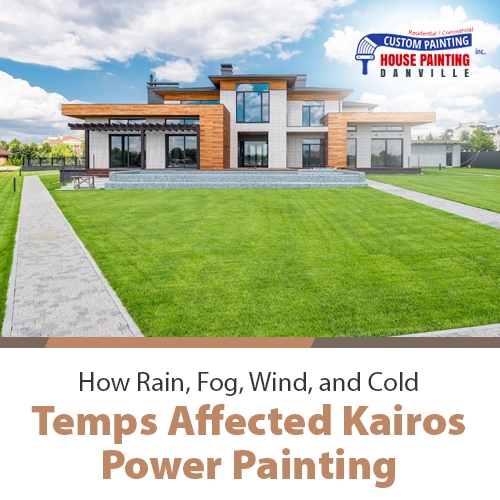 Custom Painting, Inc. has successfully finished an exterior painting project for Kairos Power in Alameda, California. Our dedicated painters worked tirelessly to transform the façade of this warehouse, bringing it to life with a fresh and vibrant coat of paint. However, this project was not without its challenges. Mother Nature threw several curveballs our way, with unpredictable weather conditions such as rain, fog, wind, and cold temperatures testing our resolve and expertise.
In this article, we will delve into the intricacies of how these weather-related challenges impacted the painting process and the innovative solutions our team employed to overcome them, ensuring the project's ultimate success.
About the Site
Kairos Power's warehouse was an old rail hangar built in the 1940s for the Navy. The company leased the property in 2017. Before that, it also functioned as a manufacturing building but was not used for a long time. 
A lot of long-standing buildings in other places are so old and weak that they need to be demolished and replaced by new structures. However, most of the industrial and civic buildings of the Navy are built to last for many years. That is why they are usually reused and repurposed, just like what Kairos Power did.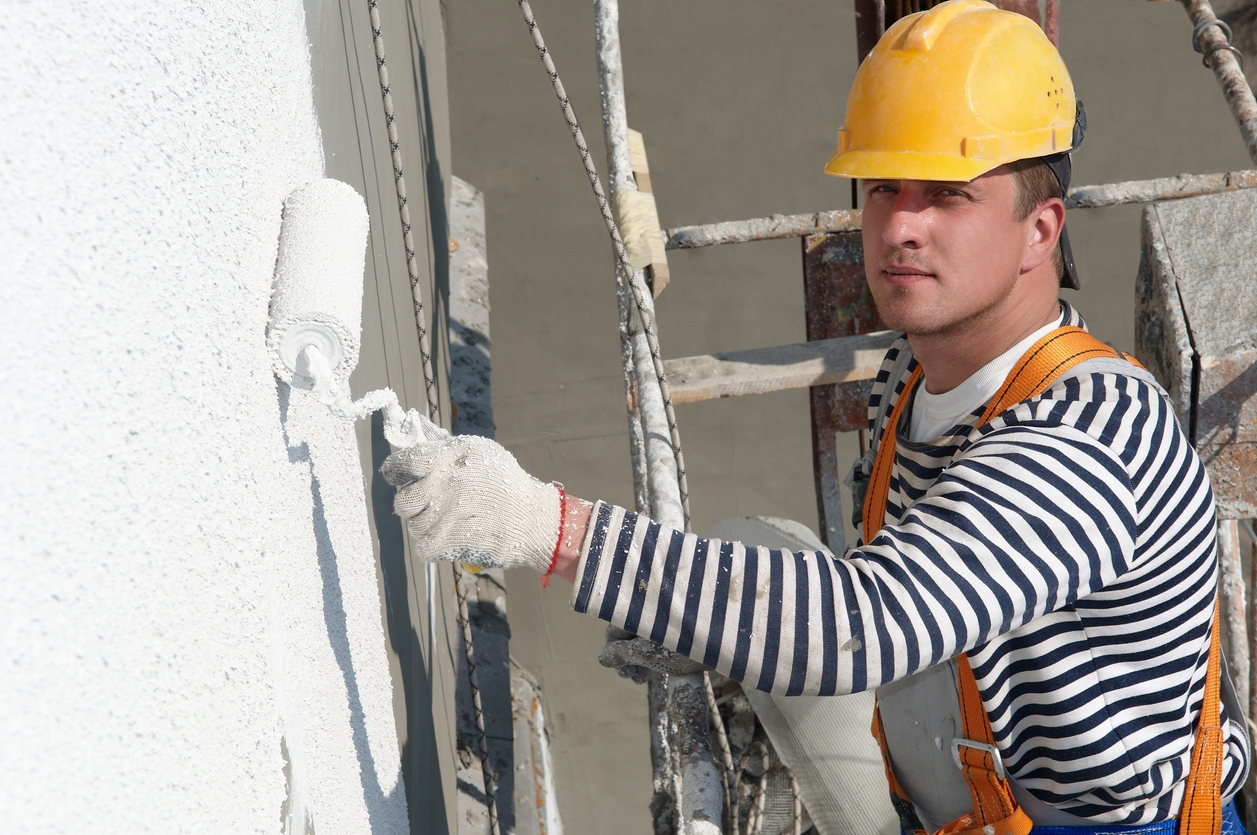 It is interesting to learn that the old hanger has earthquake-ready features, even if it is old. In fact, an engineering firm even tested its earthquake readiness by stimulating a powerful earthquake jolt. Through these tests, they were able to confirm that the old building could withstand intense earthquakes. 
The building is built using stucco and steel. It does not have any supporting interior pillars, but it still stays intact largely due to its underground piling and bracing system. It had also been repainted a lot of times over the years that it was in use, but it sat idle and unkempt for several years before Kairos Power leased it. All of the paint on its window frames was lead-based and needed proper removal from a lead-removal company before the painting was done. 
How Weather Affected Kairos Power Painting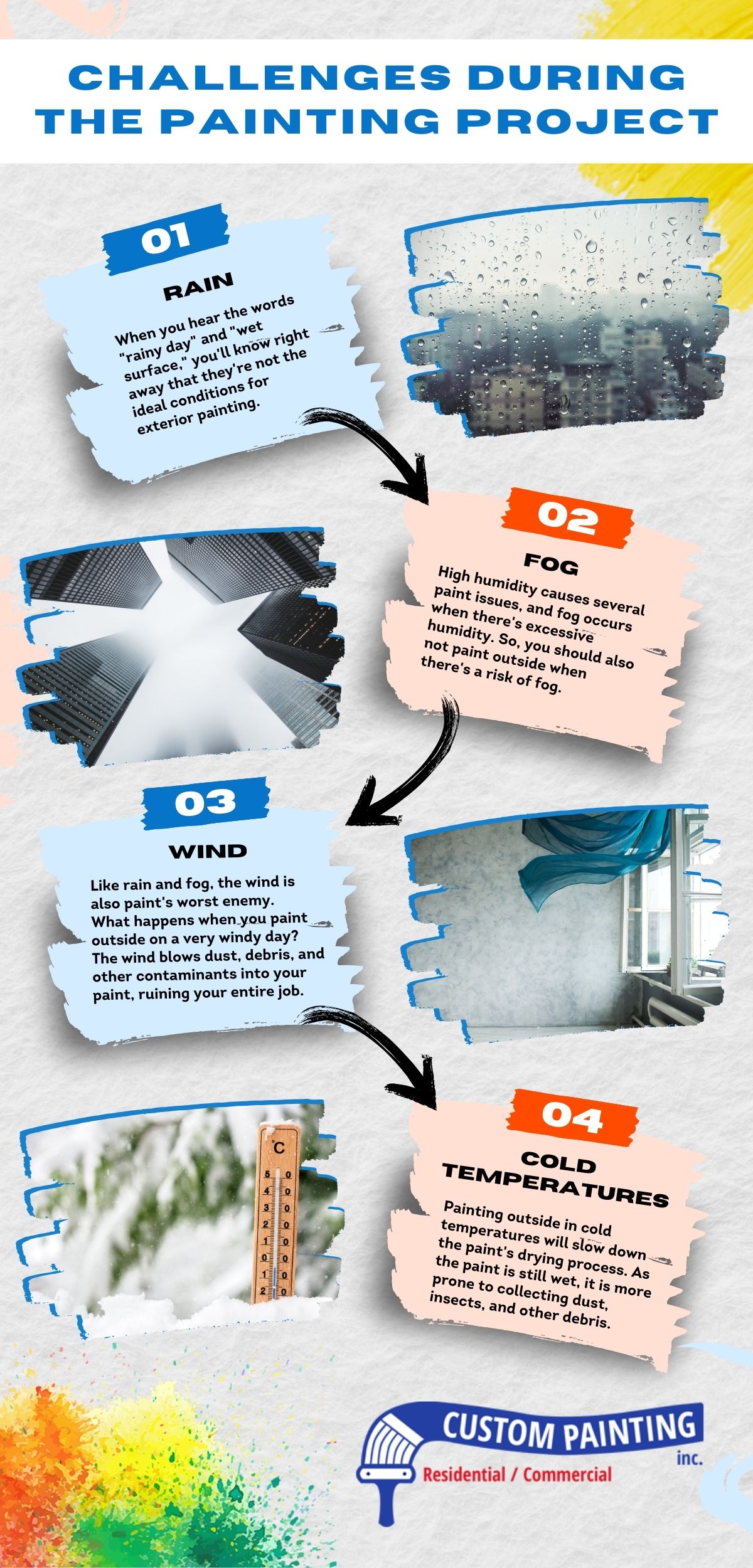 The weather greatly impacts the overall outcome of exterior painting projects. These weather conditions provide difficulties, ranging from high heat to strong winds to heavy rains. Understanding how the weather affects exterior painting is critical for a long-lasting paint finish. Learn how each of the following weather conditions can be damaging to exterior painting projects:
Rain
When you hear the terms "rainy day" and "wet surface," you know it's not the best weather for outdoor painting. When the surface is moist from rain, the paint will not stick to it. Worse, the rain and wind will simply wash the paint off the entire surface. 
While painting outdoors on a rainy day is not a good idea, it is possible if the paint does not come into contact with the outer walls at any point during the process (including the original unpainted and totally painted surfaces). To keep moisture out of the outside surfaces, protect all work locations with a large tarp or plastic cover.
However, it is preferable to postpone the project until the weather improves. Wait till rain is predicted before starting to paint. It's also not a good idea to paint right after the rain stops. To ensure that the surfaces are entirely dry for painting, you'll need to wait at least a day or two after the rain has stopped. As a result, commercial painting projects may have some delays. However, bear in mind that a professional painting job should never be rushed.
Fog
High humidity creates a variety of paint problems, and fog arises when humidity levels are too high. As a result, if there is a chance of fog, you should not paint outside. Excess moisture in the air inhibits paint from drying properly and, over time, causes major problems such as peeling and bubbling.
You should not paint immediately after a thick fog or dew, just as you would after rain. In this type of weather, wood absorbs a lot of moisture in a few hours, even more than heavy rains. Allow the surface to air out for at least a day or two before painting to ensure that it is ready.
Wind
Wind, like rain and fog, is paint's worst enemy. What happens when you try to paint outside on a windy day? The wind pushes dust, trash, and other impurities into your paint, destroying the entire project. 
You may struggle to dab a layer of paint while fighting the high winds. Even if you can paint, there is a strong possibility the outcome will be unappealing. Even a light breeze can cause the paint to dry too quickly, resulting in insufficient film development.
Painting outside in high winds might be equally riskier. If the winds exceed 15 miles per hour (mph), you may be blown off the ladder or scaffolding. In other words, painting outside on a really windy day is a bad idea. You may have to wait till the winds die down. It is safe to paint outside if the wind speed drops to 8 mph or less, which is equivalent to a pleasant breeze.
Cold Temps
Painting outside in cold weather will cause the paint to dry slowly. Because the paint is still wet, it attracts insects, dust, dirt, and other debris. Condensation may also form on the paint's surface, resulting in damage. 
Since paint dries slowly in freezing weather, you may need to repaint the surface. However, doing so will be difficult because it can take four to six hours, depending on how low the temperatures drop and the type of paint used. If the paint does not dry quickly enough between applications, surface problems such as cracking and peeling will occur. Most latex paints should not be applied when the temperature drops below 35 to 50 degrees Fahrenheit.
Professional painters may occasionally work around the chilly weather to get a clean, satisfactory finish. For example, they can use acrylic latex paints, which can withstand temperatures as low as 35 degrees Fahrenheit. Or they may schedule the painting for times when the sun is likely to appear for a few hours.
How We Faced the Weather-Related Challenges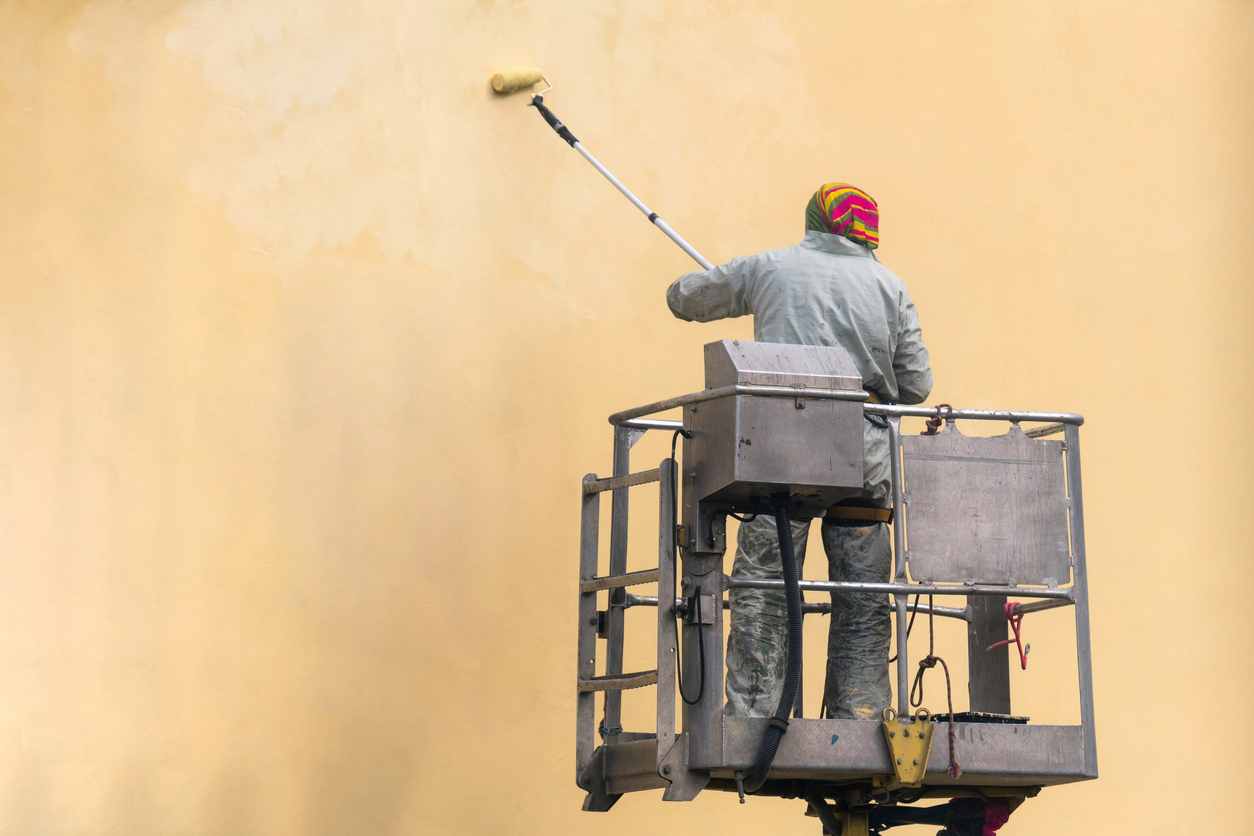 Despite various obstacles with weather, Custom Painting, Inc.'s expert painters successfully finished the Kairos Power exterior painting assignment. Here are some of the successful strategies we used:
Keep an Eye on the Weather
Our team watched the weather closely to see if there were any adverse conditions. This is a crucial phase in outside painting since the crew has to know if the weather will be good for painting. If we do not check weather updates regularly, we may suffer from heavy winds or rain during the painting process, which may ruin the project.
Make Use of Quick-Drying Products
Our team had to use products that rapidly dried in cold weather. Since the paint dries quickly, we were confident that no dust or debris adhered to the paint. Sherwin-Williams' RESILIENCE paint was used for this job. It is a long-lasting exterior paint with MoistureGuard technology, which allows the paint's surface to withstand mold and mildew. It is the most suitable paint for exterior surfaces because it is designed to endure a variety of weather conditions.
Postpone the Project for a Few Days
Due to rain, we needed to postpone the task for approximately 20 days, or about three weeks. However, this is an acceptable approach because rain can cause freshly applied paint to dry on the surface but not completely and entirely cured. Water bubbles occur beneath the dry layer as a result, giving the surface the look of alligator skin. 
Despite the fact that our team had to put off the project for a few days, we completed it as soon as possible. Furthermore, our contracts contain a condition that allows for more time due to severe weather, if applicable.
Conclusion
It is true that the inclement weather was the biggest challenge faced by our crew at Custom Painting, Inc. while painting the exteriors of Kairos Power's warehouse. But other than the weather, other issues were typical when repainting old structures, such as cracking and peeling paint. Even though the weather was not ideal during that time, our expert painters still successfully transformed and modernized the old building to our client's satisfaction.
Therefore, if you are in need of experts who can turn an old building into a new and fresh space for your business, do not hesitate to contact us. We offer both residential and commercial painting services, and our people have an eye for detail and a strong commitment to quality. You may call us at 925-866-9610 or fill out this contact form to learn about our services and request a free quote for any painting needs you have.