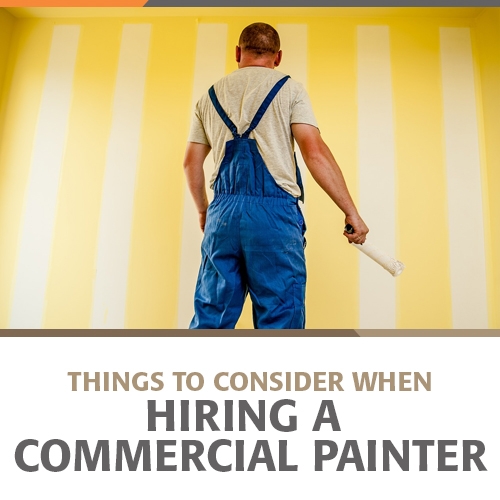 If you plan to update the look of your business – whether it is a small retail store or a large company building – nothing is more appealing than giving it a new look and feel, which can positively impact your customers and staff.
A fresh coat of paint in new and exciting colors is a cost-effective way of updating your commercial space, whether it is part of a larger remodeling work or a last-minute renovation decision.
Whether your reason for painting your commercial space is brand change, increased traffic, keeping up with the competition, or protection of your investment, any time is a good time to do so. There is no other way but to hire the best painting contractors in Danville to ensure that your business looks as good as new and is protected from external elements. 
Having a well-executed paint job can help your business attract more customers, stand out from your competitors, signify a branding change, improve the morale of your employees, differentiate yourself in the marketplace, and extend the life of your commercial building and your business as a whole. That's why hiring a qualified professional, licensed, and insured painting contractor is worth the money. 
What to consider when hiring a painting contractor

Choosing to work with a qualified commercial painting contractor can save you from a lot of disappointment. While it requires a little more time and budget, the benefits are worth all of them. Here are only a few things to consider when hiring one:
1. Your requirements
Every paint project is different, so you'll need to discuss with your potential contractor the size of the space to be painted, your scope of the project (interior, exterior, or both), specific paint color and finish for every workspace, etc. Invite painters to your property to perform a walkthrough and inspections of the space to be painted. They must assess the area for size, damage, or other issues requiring special attention. 
Make sure to ask the painters how much you have to pay for the necessary repairs, which are usually included in their job estimate. Don't forget to discuss with them what you want done. They might even show you things you never noticed or explain the entire job process to you so that you know what to expect once the project starts.
2. Research and shortlisting
You cannot just hire a painter based only on their cheap price, ready availability, or even positive customer reviews. It's always a good idea to do some research on the local painting companies for yourself. Even though they've received good reviews, they might have changed management or ownership or had issues that recently affected the quality of their services. To be sure, check the Better Business Bureau for any complaints filed against these painting companies and whether the companies have resolved these complaints. Once you're positive that these contractors are worthy of your consideration, you may include them on your shortlist.
3. Experience and expertise
Needless to say, experience is one of the most important factors to consider. Commercial painting contractors should possess the proper skills and expertise required for the job. They know the right paints, tools, and techniques, ensuring that you get the best possible results. The right painting contractor will have an extensive portfolio of the various properties they have painted as proof of their experience and expertise in their trade.
4. Quality of materials and techniques
No good and reputable painting contractor would scrimp on quality when it comes to materials and equipment. They don't cut corners because they always use high-quality products, the latest tools, and up-to-date techniques that enable them to deliver results that can last from 8 to 10 years (or even longer). After all, you don't want them using subpar products that won't stand up to external factors and are harmful to your customers, staff, and tenants on your commercial property.
5. Cost and budget
Cost is one of the common concerns every client has whenever they plan for such projects as commercial painting, especially those budgeting for the job. That's why asking for estimates from at least three different contractors for comparison is important.
An estimate includes more than just the total price of the project. It should be itemized to include the number of rooms to be painted, square footage, the estimated number of paint gallons required, the price of every paint gallon, labor cost, etc.
While cost is a significant factor, don't see it as the only consideration when looking for the right contractor. As we always say, you get what you pay for. It's not to say that you should hire an expensive contractor. However, beware of those who offer cheap rates, which usually indicate inferior materials and service or hidden costs.
If you want to save money, hire a quality paint contractor your budget can afford. Reputable painting in Danville contractors will provide an honest, accurate, and upfront quote, so there are no hidden charges.
6. Timelines and scheduling
If your business needs to remain open while the painting project is taking place, look for a painting company that understands that you still need to be able to operate your business while they complete the project. The best painting contractors in Danville, CA, will be ready to work with you so that they will be able to perform their work without causing significant disruptions to your business. 
7. Contract and terms
Always ask for a written contract from every contractor you're considering hiring. A commercial painter's contract contains the essentials, such as the contractor's name and contact information, the scope of work, the price of materials and labor, the location of the project, estimated start and completion times, the type of paints to be used, and payment terms and schedules. It should also guarantee the work to be done and the recourse if the results are unsatisfactory.
What skills should commercial painters have?
Here are the following skills that every reputable contractor should have:
Ability to paint accurately

– This skill includes making accurate estimates of an interior or exterior painting project to determine exactly how many gallons of paint a project needs. It also includes cleaning and preparing surfaces for the paint to adhere properly and picking the right colors, shades, and finishes.

Carpentry skills

– Commercial painters often come across damaged parts in a building, such as siding with wood rot or sagging ceilings. So, it makes sense to hire a paint crew who also possesses general carpentry and repair skills. Painters with such skills are often in demand. In addition, customers won't have to hire a painter and carpenter separately, so it's going to be a win-win situation for both the painter and the client.

Ability to work accurately and with attention to time

– Planning, prioritizing, and organization are some of the time management skills that help commercial painters meet deadlines. They can benefit from using time management tools and trackers that will help them develop such skills.

Knowledge of tools and materials for the job

– Commercial painting requires the use of special tools, materials, and equipment that you cannot find in a commercial painting project. These tools and materials range from scaffolds to airless sprayers to elastomeric paints. Knowledge and understanding of such tools and materials will help painters complete their job successfully.

Visual attention to detail

– Reputable commercial painters always make sure that the surfaces are properly cleaned, prepared, and painted to achieve a high-quality and long-lasting finish. 

Ability to work at heights

– Commercial painting often requires working at heights, such as high ceilings or a multi-story commercial space. Painters must be experienced in using ladders, scaffolds, platforms, or mechanical lifts to be able to paint such hard-to-reach areas safely and efficiently.

Ability to work with drywall

– Despite the fact that drywall is the most common wall and ceiling material, drywall is sometimes challenging to work with. Achieving an even and uniform finish when painting new drywall can be difficult because of the difference in texture and porosity between the paper surface and the joint compound used. Commercial painters have the skills and experience to work with drywall of various types and conditions.

Communication skills

– Besides painting and carpentry skills, commercial painters should possess excellent communication skills. They need to clearly and effectively explain the plans and details to project managers, tradespeople, and other contractors who may be working on the same project and to their clients who have no direct painting and carpentry knowledge.

Basic knowledge of electricity

– Commercial painters often work close to live electrical lines and equipment and thus can be exposed to electrical hazards. They should have a basic knowledge of electricity to enable them to perform tasks that require specific actions, such as shutting off the main power, removing and re-installing electric wires and cables, covering switches and outlets, operating generators for their power tools, etc., to allow them to complete their paint job safely and efficiently.

Knowledge of using spray painters

– Spray painting is a far quicker technique that gives the surfaces a smooth, uniform, and professional-looking finish, unlike brushing and spraying. However, spray painting is prone to certain issues (such as overspray) when not dealt with very well. Spray painters are specialized tools; only experienced commercial painters know how to use them correctly.

Knowledge of using power/pressure washers –

Power washers are very effective in getting rid of stuck-up dirt, mud, oil, grease, and peeling paint. However, the high-pressure jets of water can damage the wooden siding, shatter glass, and even cause injury to anyone, especially if the power washer is handled by an amateur. It's better to hand the power washing to professionals who have the knowledge to operate the equipment safely and correctly.

Ability to keep the work area clean during and after the work is complete –

Commercial painters should also clean up after themselves after calling it a day. But every painting company is different, so make sure that the commercial painting contractor you're considering also includes this step in their contract.
Conclusion
Hiring a skilled, experienced, and reputable contractor for your commercial painting project ensures that your painting job is done correctly for the first time. By carefully considering the factors and the skills that every good commercial painting contractor has, you will be successful in hiring one who is up to your requirements and budget.
Don't settle for less experience when it comes to commercial painting in Danville. Custom Painting, Inc. has 40 years of experience providing exceptional painting and carpentry work and top-notch customer service with positive customer feedback to back them up. Our job is not finished until you are totally satisfied with our work.  Contact us today at 925-866-9610 or message us online, and we will bring new life to your commercial property.